CIMMYT E-News, vol 4 no. 12, December 2007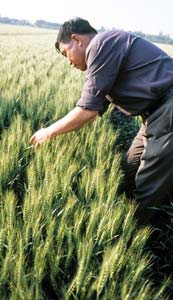 Three high-quality wheat varieties developed by researchers from the Shandong Academy of Agricultural Science and the Chinese Academy of Agricultural Science (CAAS), drawing on CIMMYT wheat lines and technical support, were sown on more than 8 million hectares during 2002-2006, according to a recent CAAS economic study. They contributed an additional 2.4 million tons of grain—worth USD 513 million, with quality premiums.
"Improving processing quality has become an extremely important objective for sustainable development of the wheat industry in China," says Zhonghu He, CIMMYT wheat expert in the country and researcher at the Chinese Academy of Agricultural Science (CAAS). He was part of a joint research team from CAAS and Shandong Academy of Agricultural Science (Shandong AAS) that combined Chinese and CIMMYT wheat lines to develop three outstanding varieties for making pan breads and noodles—mainstays on Chinese dinner tables.
The three varieties were sown cumulatively on more than 8.0 million hectares in China during 2002-2006, adding an additional 2.4 million tons of grain to Chinese wheat production and some USD 411 million to wheat farmers' incomes, according to analyses by the Agricultural Economy and Development Institute of CAAS. "Farmers benefited by an additional USD 101 million in quality-based premiums," says He, "and USD 8 million more was generated through marketing seeds of these varieties. Finally, the improved quality of these wheats has greatly benefited the milling and food industries."
Award-winning wheat and work
The research team has received two Scientific Progress Awards from China's State Council, as well as awards from the Shandong Provincial Government (2003) and Beijing Municipal Government (2006). In December 2007, in a ceremony in the Great Hall of the People, the team was given the 2007 Award for Outstanding Agricultural Technology in the Asia-Pacific Region of the Consultative Group on International Agricultural Research (CGIAR). "This is the only research team in the Chinese agricultural community that has produced such impact and received such high honors from the provincial and central governments in recent years," says He.
The wheat quality research team also established methodologies to test for Chinese noodle quality and for applying molecular markers. "A total of 72 scientific papers have been published in refereed journals on this work, including 19 in leading international journals," says He. "Besides being used throughout China, the molecular marker and noodle evaluation procedures are widely used in Australia and at CIMMYT."
Decades of strong partnership
Chinese and CIMMYT wheat researchers have carried on joint research since the early 1970s, helping both parties to develop varieties with enhanced disease resistance and higher yields, among other traits. CIMMYT has contributed particularly to the quality of Chinese wheats. Two of the varieties emerging from the work described above were improved for grain quality through cross-breeding with the CIMMYT wheat genotype Saric F74. The breeder who developed them, Liu Jianjun, attended CIMMYT training courses and did his MSc thesis on noodle quality under the supervision of He and of Roberto J. Peña, head of industrial quality at CIMMYT. CIMMYT and China have jointly organized more than a dozen training courses, workshops, and conferences involving at least 1,000 Chinese researchers.
New CAAS-CIMMYT effort to confront climate change and killer strain of wheat disease
On 04 December 2007, CAAS and CIMMYT launched a three-year joint breeding initiative worth USD 1 million per year to develop new wheat varieties that tolerate heat and drought—helping farmers face climate change—and that resist major diseases of the crop.
"Of particular concern is the new, virulent strain of stem rust, Ug99, which appeared in eastern Africa eight years ago but has since moved on prevailing winds to the Middle East and could soon threaten the vast wheat lands of Asia," says He. "One of the varieties, Jimai 20, developed by the CAAS-Shandong team, was the only wheat cultivar from China to show high resistance to Ug99 in field screening in Kenya."
For more information: Zhonghu He, wheat breeder (zhhe@public3.bta.net.cn)