By Krishna Dev Joshi, Muhammad Imtiaz and Akhlaq Hussain/CIMMYT
Improving and sustaining wheat productivity gains in Khyber Pakhtunkhwa province (KP) and other parts of Pakistan is vital to addressing national food security, as wheat is a major staple in the country.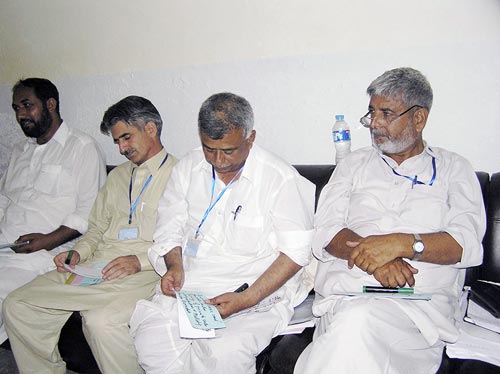 Regular deployment of new, high-yielding and rust-resistant wheat varieties is essential to ensure ongoing improvement in wheat yields. This can only be achieved once a sustainable and profitable wheat seed system is in place. A workshop held on 4 June at the Cereal Crops Research Institute (CCRI), Nowshera, KP, brought together 49 participants representing major actors in the wheat value chain.
Participants included researchers from institutes in KP as well as from the Pakistan Agricultural Research Council (PARC), farmers, extension personnel, private seed companies, seed regulatory bodies and CIMMYT scientists. Participants analyzed gaps and opportunities in the current seed system. CIMMYT organized the event under the Agriculture Innovation Program (AIP) for Pakistan with CCRI, KP, Nowshera and PARC. The AIP is funded by the USAID Feed The Future Initiative.
Workshop participants stressed using innovative approaches for research, extension, seed production and marketing. According to the KP Department of Agriculture Extension, wheat productivity in the province is nearly 1.6 tons per hectare (t/ha) while the national average yield in Pakistan is around 2.7 t/ha. Wheat is grown on about 730,000 hectares in KP. Considering a 30 percent seed replacement rate, about 30,000 tons of wheat seeds is needed annually in the province. According to the Federal Seed Certification and Registration Department (FSC&RD) only around 7 percent of certified seeds are replaced every year (3.8 percent by public sector and 2.9 percent by private seed companies).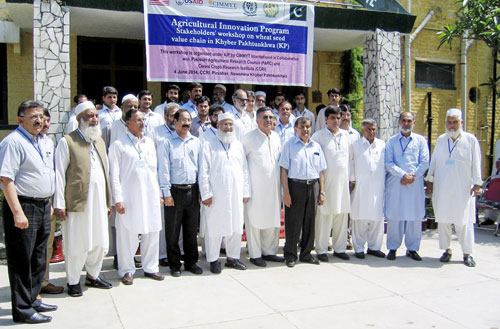 The remaining 93 percent of seed comes from informal sources. The lack of business perspective among almost all the major value chain actors coupled with weak coordination and linkage between them were identified by workshop participants as the main reasons for the predominance of informal seed systems in the province. The prevalence is a concern for wheat growth and sustainability. Farmer Abdul Malik from Swabi stressed that "seed is very important to maximize yield, and unavailability of quality seeds is the main cause of low productivity."
He asked for better wheat seed of the right varieties that is available locally, adapted to specific conditions and affordable. Another farmer asked for focus on wheat varieties suitable for rain-fed conditions, as more than 60 percent of the wheat grown in KP is rain-fed. The workshop identified the long adoption lag phase as another major issue in releasing new varieties and making certified seed available. Workshop participants stressed that seeds coming to villages should include information about new varieties and associated technologies. Seed packets should contain information about new varieties and their specific adaptation to irrigated or Barani (rainfed) lands and other relevant traits. Demonstration plots and other adaptive research are important to popularize new varieties as well as for educating farmers about new seed varieties.
A total of 23 private seed companies are registered in KP, the majority of which are in urban areas, and few of these are functional. The majority of functional seed companies do not have wheat seed in their business portfolio or only have a small quantity of wheat seed because demand is low and this business is unprofitable. The high cost of seed production (small holdings and majority of nonirrigated areas, low productivity, etc.) adds to this complexity. complexity. The net returns from the sale of wheat seeds by the public sector Agricultural Development Fund (ADF) project were only around 7 percent (disregarding staff salary, overheads, seed storage costs).
The wheat seed business is unlikely to become a business of choice for private sector companies in this province. Wheat seed from Punjab does have a market in KP because of lower seed procurement prices. ADF, within the Department of Agriculture Extension, encourages local private seed companies to minimize dependency on Punjab, though the implementation is complicated without changing wheat grain pricing policy regime in the province, a major factor responsible for making this industry highly uncompetitive.
Workshop participants highlighted the role of seed and agricultural input dealers that sell wheat seed in the province. These dealers are vital actors in areas with underdeveloped seed markets, such as KP. Ensuring access to correct and appropriate information about the seeds they sell is vital. Participants, for example, raised concerns that some seed dealers sold seeds of a rust- susceptible wheat variety last year in Swabi, resulting in big losses for farmers. This was linked with a lapse in the implementation of Seed Act provisions, which is meant to protect farmers.