The diversity and progress of conservation agriculture (CA) was emphasized during a regional training course at Punjab Agricultural University (PAU), Ludhiana, India during 28 June–11 July 2011. Organized in partnership with the Cereal Systems Initiative for South Asia (CSISA) and PAU, the course attracted male and female participants from varying regions, age groups and agricultural backgrounds, and was the second in a series of regional CA courses. In addition to experts from PAU, CGIAR and private sector partners, the key mentors in the training course were Ken Sayre, CA Consultant, CIMMYT, Patrick Wall, Director of the Global Conservation Agriculture Program, CIMMYT, ML Jat, Sr. Cropping Systems Agronomist, CIMMYT, HS Sidhu, CSISA hub coordinator, Punjab, and Mahesh Gathala, Cropping Systems Agronomist, CIMMYT. ML Jat also coordinated the course.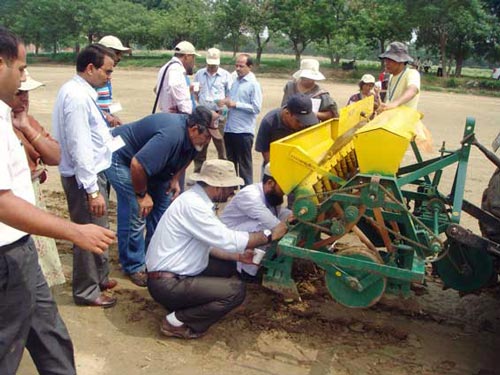 Training was mostly field-oriented, with participants practicing key CA principles in the field. The diverse makeup of the group also meant that some participants were less experienced in CA, therefore encouraging regional cross-learning, increasing capacity and helping to promote CA.
In the closing ceremony, Raj Gupta, South Asia Coordinator, CIMMYT, and Patrick Wall highlighted the benefits of the strong and longterm partnership between PAU and CIMMYT, for both organizations and for the Punjab. It is hoped that collaborations between PAU, CIMMYT, and other national organizations will facilitate in developing CA in the region and assist farmers to improve the quality of their natural resources and livelihoods.
Chief guest of the closing ceremony, BS Dhillon, Vice Chancellor of PAU, further stressed that CA is the best way to address the emerging challenges of South Asian farmers, particularly in view of the issues associated with a second generation of the Green Revolution. PAU is becoming a CA hub in the region and Dhillon added that more agricultural universities should include CA in their graduate and postgraduate curriculums, as PAU is beginning to do. Dhillon, who is also helping to lay the groundwork for the Borlaug Institute of South Asia, reiterated that there is still a long way to go, but that "for accelerating the pace of adoption of CA in the region, capacity building on CA is an immediate action and hence this course is a timely and important step."