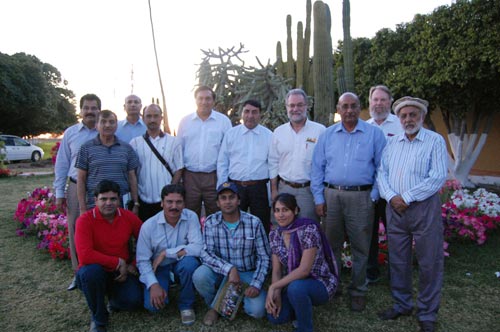 For some attendees, the unveiling of the new Norman E. Borlaug statue at CENEB was particularly poignant. It was a young Pakistani researcher who, in 1961, selected the variety that later became known asMexipak; a high-yielding, white grain wheat that became one of the mega-varieties that launched the Green Revolution. In 1966, Pakistan imported 41,000tons of Mexipak seed from Mexico – one of the biggest seed imports in history. Quarantine restrictions would make this a difficult task today, but it is estimated thatthis large-scale mission saved one million people from starvation and famine during the Green Revolution.
Norman Borlaug continued his relationship with Pakistan, though CIMMYT had to close it's office there in the 1980s. This office was reopened in 2010,and during this year's Visitors Week at CENEB, Ciudad Obregon, CIMMYT was delighted to welcome a delegation of eight Pakistanis, representing thePakistani Agricultural Research Council (PARC), the Ministry of Food Security and Research, the Nuclear Institute for Food and Agriculture, and the Directors General of Agriculture Research from Khyber Pakhtunkhwa (KPK) and Sindh, two of Pakistan's fourprovinces. Rick Ward, Head of CIMMYT's office in Pakistan, accompanied the delegates, who joined four Pakistani Borlaug Fellows currently conducting research at CENEB.
Syed Ghanzanfar Abbas, Director of Mechanization, PARC, said that visiting CIMMYT-Mexico was "a dream come true". The delegates were delighted to see the research that CIMMYT is conducting at CENEB, and enjoyed hearing the presentations and meeting CIMMYT staff.