By Brenna Goth/CIMMYT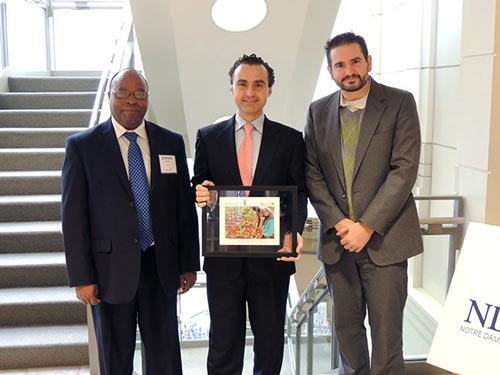 Monsanto received an award in December recognizing its impact in Africa through the Water Efficient Maize for Africa (WEMA) project. The Notre Dame Global Adaptation Index (ND-GAIN) Corporate Adaption Award is given annually by the University of Notre Dame for contributions to awareness, science or action in creating resilience to climate change. In 2013, Monsanto and PepsiCo were recognized for their impacts on climate change and vulnerability. The awards were announced in Washington, D.C.
WEMA, which is providing improved maize varieties to farmers in Sub-Saharan Africa, is a public-private partnership that includes participation by CIMMYT, the African Agricultural Technology Foundation (AATF) and the national agricultural research systems of Kenya, Mozambique, South Africa, Tanzania and Uganda. Monsanto joins CIMMYT and national agricultural research systems in providing maize germplasm and technical expertise for the project. WEMA is funded by the Bill & Melinda Gates Foundation, the Howard G. Buffett Foundation and USAID. WEMA is in its second phase. Its first conventional maize hybrid, branded under DroughtTEGO, is being sold for planting to smallholder farmers in Kenya. The first harvest is expected early this year.
Jesús Madrazo, vice president of corporate engagement for Monsanto, received the award on behalf of the WEMA project. He was accompanied by John McMurdy, international research and biotechnology adviser for the USAID Bureau for Food Security and Rose Barbuto, senior consultant for the Bill & Melinda Gates Foundation. CIMMYT's Stephen Mugo, principal scientist and maize breeder for the Global Maize Program based in Kenya, represented CIMMYT, AATF and national agricultural research systems partners at the event. "The ceremony was an excellent platform for the work being done by ND-GAIN to raise awareness about the need for national efforts towards adaptation to climate change," Mugo said. "The fact that Monsanto and the WEMA project were recognized for contributing to Kenya's rise on the ND-GAIN index ladder was very welcome." Read more about the award on Monsanto's blog.