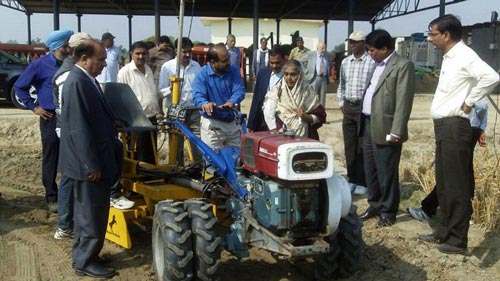 A delegation from the Government of Bangladesh led by Begum Matia Chowdhury, Minister of Agriculture, and accompanied by Tariq A Karim, High Commissioner of Bangladesh in India, Md Abdul Hamid, Additional Secretary of Agriculture, and Wais Kabir, Executive Chairman of the Bangladesh Agricultural Research Council (BARC), visited the Central Soil Salinity Research Institute (CSSRI) in Karnal, India, and CIMMYT's projects on conservation agriculture (CA) and mechanization in Karnal on 8 November 2012.
ML Jat, CIMMYT's senior cropping systems agronomist, introduced key activities of projects and CRPs within which CIMMYT cooperates with the Indian Council of Agricultural Research (ICAR), state agricultural universities, the State Department of Agriculture, private sector, and farmers cooperatives in Haryana. These include WHEAT, MAIZE, Research Program on Climate Change, Agriculture and Food Security (CCAFS), and Cereal System Initiative South Asia (CSISA). Since the delegation was particularly interested in CA and small-farm mechanization, the visit included field demonstrations of zero tillage wheat, residue management, and recently developed power tiller (2WT) operated laser land leveler for the small holder farmers. According to Kabir, BARC, Bangladesh Agricultural Research Institute (BARI), and other institutes in Bangladesh are working closely with CIMMYT to introduce such machinery. Karim and Hamid emphasized the collaboration between national agricultural research institutes in India and Bangladesh, and international institutes such as CIMMYT, benefiting farmers in both countries.
During the visit, BR Kamboj, CSISA hub manager, demonstrated and explained operation and importance of the new generation of CA planters currently being used in Haryana. At the end of the visit, DK Sharma, director of CSSRI in Karnal, one of the key collaborating institutes on CA, explained the key benefits of CA-based crop management technologies, emphasizing that they not only conserve natural resources and save inputs, but also help in adaptation to and mitigation of climate change effects.