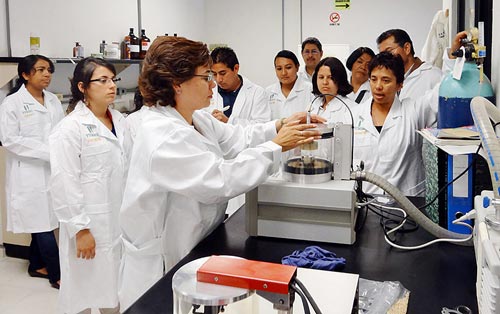 Although many of us know that cereals such as maize contain starch, very few of us are aware of its usefulness and numerous applications. Luis Arturo Bello from the National Polytechnic Institute (IPN) is one of a number of Mexican scientists who are internationally recognized for their knowledge and research on starch, especially corn starch. Bello, along with other researchers from Mexico's National Autonomous University (UNAM)-Juriquilla and CIMMYT, discussed various aspects of starch with representatives of the academic and industrial sectors during a course combining theory and practice sponsored by the Sustainable Modernization of Traditional Agriculture (MasAgro) initiative at the Center for Applied Physics and Advanced Technology (CFATA-UNAM), in the city of Querétaro on 3-5 June 2013.
"We know that compounds such as starch, proteins, and oil, among others, are very important for the quality of the finished product, which is what people consume. This is why the food industry is interested in learning more about starch and identifying maize varieties with optimal traits for food processing and production," said Mario Rodríguez of UNAM during the event.
The course highlighted how maize starch content influences food processing and preparation (for example, the nixtamalization process for making tortillas), as well as its varied uses and nutritional roles. Course participants also had the opportunity of learning the theory underlying X-ray technology, electronic microscopy, and rheology, and of identifying the diverse forms and composition of maize starch.
The course brought out the importance of exploring maize genetic diversity as a potential source of resistant starches and dietary fiber, and of starches with different forms, structures, and sizes. As part of the human diet, these starches influence the glycemic index, which indicates how quickly carbohydrates such as starch are digested and absorbed by the human body. Some starches have a very rapid glycemic index (they are absorbed very quickly), and others, such as resistant starches, have a slower one.
The glycemic index is important in conditions such as diabetes, where glucose levels have to be controlled, or in diets aimed at gaining or recovering energy reserves. In disorders such as obesity, a lot of glucose accumulates, fat metabolism is activated, and fats are stored in adipose tissue.
"By exploring and understanding the genetic diversity of maize landraces through initiatives such as MasAgro, we are finding new ways of improving and conserving it," said Natalia Palacios, maize nutritional quality researcher at CIMMYT. "Starch is only one of many nutritional and industrial compounds that are useful to us."