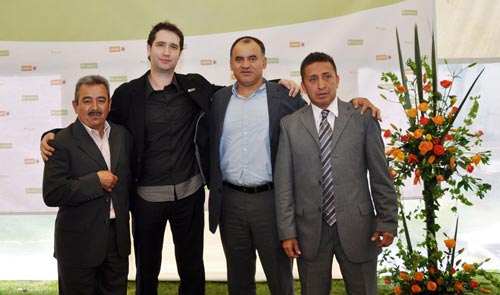 After 12 months of work and dedication, on 19 October 2012 technicians from different parts of Mexico were recognized for their efforts in an August graduation ceremony for the "Technicians Certified in Conservation Agriculture" course. The 48 graduates constitute the third generation of specialists trained to provide technical advice and assistance to new farmers as part of the "Take it to the Farmer" initiative of the Sustainable Modernization of Traditional Agriculture (MasAgro) program.
Held at CIMMYT-El Batán, the ceremony was attended by dignitaries including Francisco Mayorga Castañeda, Mexico's Secretary of Agriculture; Mariano Ruiz Funes, Mexican Undersecretary of Agriculture; Bruno Gerard, director of CIMMYT's global conservation agriculture program; Bram Govaerts, leader of "Take it to the Farmer"; Heriberto Ortega Ramírez, Secretary of Agriculture and Livestock Development for the State of Mexico; and Rodrigo Sánchez Mújica, Director General of the Mexican Trust Funds for Rural Development (FIRA).
In his talk to the graduates and other guests, Mayorga Castañeda highlighted the key role of MasAgro in bringing change to farming in Mexico, thus increasing food production while promoting sustainable development, and said the technicians were central to this occurring: "I hope their activities will be successful and the knowledge they have acquired will be applied, for this will undoubtedly bring positive results for rural Mexico."
In 2011, more than 12,000 farmers benefitted from the training of 2,500 technicians. "With the support of these newly-trained technicians, we hope to significantly expand the 21,000 hectares currently under conservation agriculture in Mexico," said Govaerts.