Compared with other cereals, maize has recorded the fastest annual growth in Asia at around 4 percent, but consumption is rising faster than yields.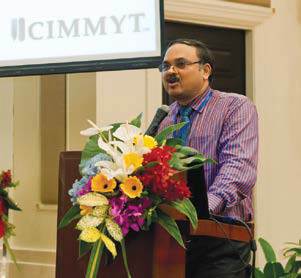 When BM Prasanna, CIMMYT's global maize program director, opened the 12th Asian Maize Conference and Expert Consultation on "Maize for Food, Feed, Nutrition and Environmental Security" in Bangkok last week he said that boosting maize crops would be a key to food security. In China, maize is the number one crop in acreage, covering 35.26 million hectares (87 million acres) in 2013, an area comparable to that of the United States, Prasanna said. The big questions are whether or not China can increase yields before 2020 to avoid being the largest importer of maize and whether Asia can meet the demand for maize "by shortening, widening and improving the breeding funnel," Prasanna said.
He added that efforts are underway to significantly enhance genetic gain per unit over time: CIMMYT and the University of Hohenheim (Stuttgart, Germany) are utilizing doubled haploid technology; other partnerships are focused on genetic diversity and introgressing transgenic traits under humanitarian license through public-private partnerships.
"Strengthening seed systems is also important for breeding programs to make an impact," Prasanna said. "The sooner farmers, especially smallholders in unreached areas, have access to improved varieties and a complementary agronomic package of practices, the greater the opportunity to increase productivity."
Challenges are many. Heat stress and drought stress, among others, are an increasing reality in many maize-growing regions in the tropics. Two promising CIMMYT- Asia heat-tolerant commercial hybrids (31Y45 and DKC9108) are currently being marketed in Asia. Scientists also confirm that a strong pipeline of water stress-resilient, Asia-adapted maize hybrids is ready for deployment in rainfed areas of Asia.
Prasanna concluded by reminding the 350 conference participants that "putting women and children at the center of development will help transform their societies." Quoting Melinda Gates, he said that by ignoring gender inequities, many development projects fail to achieve their objectives.
As he concluded his remarks with a big smile, Prasanna could not resist sharing, "Nothing looks more beautiful to me than maize."