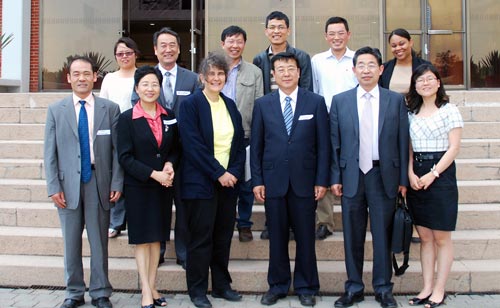 Whilst Director General Thomas Lumpkin is in China meeting with the ex- and current Presidents of the Chinese Academy of Agricultural Sciences (CAAS) in Beijing, a delegation of six CAAS representatives took the opportunity to come to El Batán to discuss collaborations between CIMMYT and China and opportunities for future projects. Li Jinxiang, Vice President, Ye Zhihua, Director General of the Institute of Quality Standard and Testing Technology for Agro-Products, Chen Wanquan, Director Generation of the Institute of Plant Protection, Li Sijing, Vice President of the Graduate School, Niu Liping, Deputy Director General of the Logistic Service Center, and Wang Jing, Project Officer of the Department of International Cooperation of CAAS visited CIMMYT while in Mexico for the G20 meetings.
Director of Research and Partnerships, Marianne Bänziger, presented on behalf of Lumpkin, highlighting that CIMMYT "benefits from a very strong contribution from China, not only in terms of partnerships, but also from Chinese students". Seven students from China completing their PhD research at CIMMYT were also on hand to welcome the visitors and discuss their work.
In recent years, China's largest crop has switched from rice to maize. Last year, 192 million tons of maize was harvested, but despite this record yield, China still needed to import 2 million tons of maize from the US alone. This deficit is partially due to increasing levels of meat consumption in China; per capita consumption of pork is expected to reach 38kg this year and a bad harvest could result in food shortages and price hikes worldwide. For this reason maize yields are a high priority for CIMMYT and maize breeder Félix San Vicente presented CIMMYT's Global Maize Program to the visitors.
China is also the world's largest producer of wheat (producing 17% of total yield), though the 2011 harvest was heavily affected by drought. Etienne Duveiller, Associate Director of the Global Wheat Program, presented CIMMYT's recent developments and discussed a particular area of interest, the Wheat Yield Consortium, with the delegation. Marianne Bänziger reiterated "I think the WYC is one of the most incredible examples of international cooperation with 32 institutions working together to develop a strategy to raise wheat yields and meet the challenges ahead. We want to put wheat yields on track in order to sustain future generations".
Globally, three countries produced half of the world's grain last year –China, India, and the US. With 75 percent of the world's spring wheat varieties and 50 percent of the developing world's maize varieties coming from CIMMYT, partnerships with these key grain producing countries are a high priority. As stated by Marianne Banziger, "CIMMYT would like to strengthen our partnership with China and be prepared to address the future. No group can do it alone."