By Vijay Chaikam/CIMMYT
CIMMYT's intensive efforts in developing and deploying tropicalized haploid inducers and their potential impact on doubled haploid (DH) line development in tropical genetic backgrounds were recently praised by Thierry Rosin, global maize research head of Limagrain.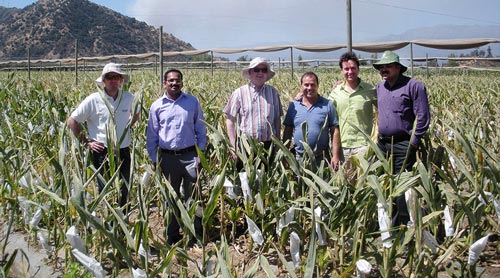 His comments came during a DH project review meeting organized by Limagrain on 4 February at Limagrain's DH facility in Santiago de Chile, Chile. Vijay Chaikam, CIMMYT maize DH specialist, and B.M. Prasanna, director of CIMMYT's Global Maize Program represented CIMMYT. Limagrain, an international agricultural co-operative group based in France and the world's fourth largest seed company, has supported CIMMYT's maize DH technology efforts since 2012, with particular emphasis on improving protocols to enhance efficiency for the benefit of the international scientific community. DH technology expedites the development and release of homozygous maize lines.
The meeting was chaired by Rosin. Participants from Limagrain included Regis Brassart, maize DH project manager, and Dominique Marc, corn research production manager, along with colleagues from Limagrain-Chile. The meeting was also attended by Gorden Mabuyaye, maize program lead of the southern Africa SeedCo company. Brassart presented Limagrain's DH program organization and its scope of operations on different continents. Prasanna highlighted the present initiatives and impact of CIMMYT-improved maize germplasm in the tropics and the role of public-private partnerships in developing and deploying modern tools and strategies for enhancing breeding efficiency. Chaikam presented the progress achieved under a Limagrain-funded project on maize DH technology at CIMMYT-Mexico and future research plans.
Chaikam, Prasanna and the Limagrain scientists also visited Limagrain's DH facilities, which showcased haploid induction, haploid seed germination, chromosome doubling and haploid nursery management. The lab and field visits also provided opportunities for detailed discussion on protocols at both institutions and possible improvements. On behalf of CIMMYT, Prasanna thanked Limagrain management for sharing the knowledge and technical processes associated with the maize DH technology, and expressed his hope for a stronger collaboration between the two institutions in various areas of mutual interest in global maize research for development.