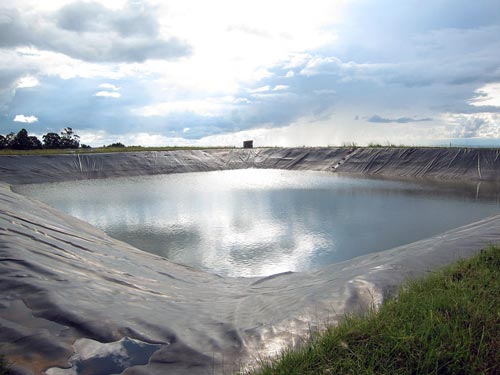 KULUMSA, Ethiopia (CIMMYT) — An irrigation reservoir at the Kulumsa Agricultural Research Center in Ethiopia's highlands captures water from a nearby beer distillery about 168 km (105 miles) southeast of the capital Addis Ababa.
Before the irrigation project was constructed, the industrial runoff poured into the nearby river and had a negative effect on the health of local residents. Now it nourishes crops growing in neighboring fields during the dry season or in periods of drought. It can store up to 38,195m3 of water.
"The irrigation project has been a key investment – it's very instrumental for accelerating seed multiplication of improved high-yielding rust resistant varieties for local wheat projects," said Bekele Abeyo, a senior scientist and wheat breeder working for the International Maize and Wheat Improvement Center (CIMMYT).
"It allows us to advance wheat germplasm and seed multiplication of elite lines twice a year, which we couldn't do previously. This cuts the time by half from the currently required eight to 10 years to four to five years for the development and release of new varieties through conventional breeding.
An additional pond with the capacity to capture 27,069m3 of natural water from the river, generates the capacity to irrigate more than 30 ha of land during the off season. The project resulted from the joint investment of the East Africa Agricultural Productivity Program, the Durable Rust Resistance in Wheat Project and CIMMYT.
The construction of the ponds began in April 2012. Sprinkler irrigation was completed in 2014 and management of the project was handed over to the Kulumsa Agricultural Research Center.