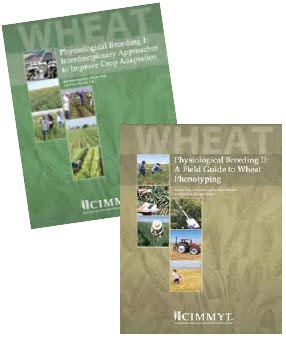 In 2001, CIMMYT published
Application of Physiology in Wheat Breeding
, which became one of the most highly downloaded publications from the CIMMYT website. It has been translated into Russian and Chinese and comprehensively explains approaches for using plant physiology in the genetic improvement of wheat. The success of that book has led CIMMYT's Wheat Physiology Group to recently publish two further complimentary manuals:
These build on the knowledge and methods presented in the first book in order to provide practical information for breeders and crop researchers seeking to apply tried and tested phenotyping methods in the context of the environmental factors to which crops must adapt. "It's productive literature for stress breeding programs," said Digvijay Bhargav, a researcher at the Indian Agricultural Re search Institute.
According to Matthew Reynolds, Head of Wheat Physiology at CIMMYT and editor of the manuals, "all three volumes are expected to provide a valuable stock of information for those working in the area of crop improvement and who are charged by society with the responsibility for accelerating genetic gains of crops in increasingly challenging en vironments to ensure the food security of a rapidly growing population."
Printed copies of the manuals will be available shortly, or you can download them now from the CIMMYT repository:
Physiological Breeding I: Interdisciplinary Approaches to Improve Crop Adaptation.
Physiological Breeding II: A Field Guide to Wheat Phenotyping.