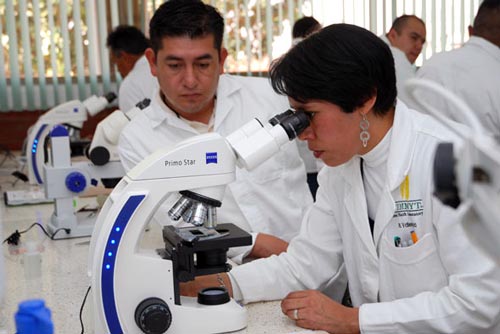 Seed is the lifeblood of CIMMYT's work. Unfettered shipments, both incoming and outgoing, depend on CIMMYT and partners' ability to keep seed clean from pathogens and to properly document seed health. To promote protocol consistency among Mexican seed technicians, a weeklong seed-health workshop was held during 29 November-03 December 2010 at CIMMYT-El Batán.
Monica Mezzalama, head of CIMMYT's seed health laboratory, led the course, which 11 technicians from State Committees of Plant Health, and INIFAP attended. The participants, which came from 10 Mexican states, spent the majority of the course inside the El Batán seed health laboratory exploring various detection methods of seed borne fungi, bacteria, and viruses affecting maize and wheat. In the long-run, these methods will help the technicians ensure seed viability and health in their own laboratories.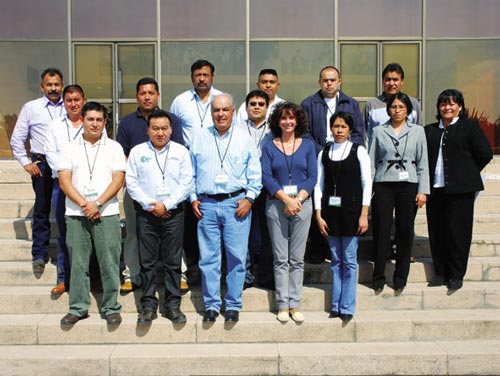 On Tuesday, 30 November, the participants took a break from the lab to enjoy the fresh air of the Tlaltizapán station where they learned field inspection and sample collection procedures. The course focused on diseases prevalent in Mexico and included presentations from Monica Mezzalama as well as two guest lecturers, Ana María Hernández, plant pathologist, and Gustavo Mora, plant disease epidemiologist, both professors from the Colegio de Postgraduados, Texcoco, Mexico. The workshop was the first of its kind, and due to resounding positive feedback, it is hoped to be continued annually. Thanks to all that made the course possible, a special thanks to Noemí Valencia, seed health laboratory supervisor; Gabriela Juárez, research assistant; Laura Rodríguez, training office assistant; and Óscar Bañuelos, Tlatizapán station superintendent.