CIMMYT E-News, vol 2 no. 7, July 2005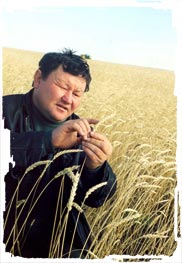 A Kazakh farmer wins by adopting CIMMYT-led technology.
The soft-spoken Meiram Sagymbayev recalls last year's harvest, when his hundred hectare, zero-tilled plot had the highest wheat yield in Akmola county. "This completely convinced me," he says, and to prove he was a farmer who took action when he saw a good thing, he put the rest of his 3,000 hectares under zero-till. This season he is a one hundred percent practitioner of conservation agriculture.
A prize-winning businessman, Sagymbayev put together the beginnings of a business plan while working on a cooperative farm shoveling manure in 1989 and started to implement his ideas when Kazakhstan won independence in 1991. It is no surprise then that this innovator is leading the way in zero-till farming in his region.
In a normal year Akmola receives just 250mm of rain, but 2004 was even drier. Sagymbayev's zero-tilled plots had an advantage. The technology he used retains the previous season's residues on the surface, which conserves moisture. As a result, Sagymbayev was able out-perform other farmers in the county. When his neighbor saw the results, he too joined the zero-till movement, sowing 2,500 of his 11,000 hectares using zero-tillage technology. More are watching intently, among them many of the county's small-scale farmers.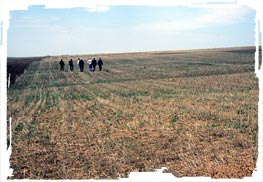 "Psychologically, zero-tillage is not easy for farmers to accept and adopt," he says. "For as long as I can remember, farmers have plowed the soil and allowed it to rest in fallow." But now, because of his knowledge of zero-tillage and retained residues originally learned at an FAO-CIMMYT seminar, and because of his own harvest last year, it is easy for him to adopt the technology.
Neighbors often call on Sagymbayev for advice on various farming issues, including zero-tillage. While on an FAO-sponsored trip to the United States, he was impressed by how farmers there were independent yet worked cooperatively and in associations to acquire inputs and technical knowledge. Today, he is encouraged to see Kazakhstan and its farmers take their first steps to create cooperatives that can provide credit to farmers for fertilizer. Sharing equipment and labor may not be far behind.
In Kazakhstan's transition period, most farmers didn't know what to do," he observes. "Now, things are moving forward step by step and may even be accelerating, but we have a ways to go."
Zero-tillage: What is it? In zero-tillage, the farmer plants seed directly into the soil without plowing, and the crop comes up amid stubble from the previous year's crop. In this way, the soil's natural structure, network of organisms, water capture and retention capacity, and other properties are conserved or improved. Zero-tillage also saves time, fuel, and machinery maintenance costs, and reduces greenhouse gas emissions, to mention a few benefits.

To read another story about zero-tillage in this month's E-news, click here