As an international center, CIMMYT unites people of various nationalities, cultures, and backgrounds. Sensitivity and respect are key to the way we work. During 3-6 November 2009, El Batán hosted a Dignity Advisors Training workshop that stressed the importance of cross cultural communication and of maintaining a workplace free of harassment and unacceptable behavior.
"A dignity advisor is a trained staff member who is aware of what the different types of inappropriate behavior are and what the appropriate institutional channels are for dealing with them," said Marco Noordeloos, Gender & Diversity Program (G&D) executive officer. "They are there to listen and help a person who is experiencing harassment decide what to do next."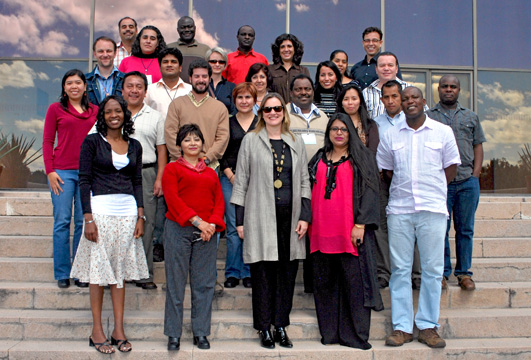 Nearly 30 CIMMYT staff attended the workshop, including members of regional offices in Zimbabwe, Kenya, and Turkey. On the last day of the course, several of the participants took part in a seminar open to all CIMMYT staff. Topics included the four main types of harassment (general, abuse of power, sexual, and discrimination) and why victims often don't report incidents.
"About 99% of the time, a problem can be fixed by staff development and improving supervisor skills. But the egregious things are never accidents," said Vicki Wilde, G&D leader. "Neither situation is acceptable. When you sign a CGIAR center contract, you sign up to maintain the highest levels of standard possible; even one person acting poorly can negatively affect an institution and those working for it."
The Diversity Advisor workshop is one of several offered by the CGIAR's Gender & Diversity Program. For a decade G&D has been visiting CGIAR centers to "leverage rich staff diversity to increase research and management excellence." This is the first time G&D has visited CIMMYT in over seven years.
The following colleagues have completed Diversity Advisor training, have an open-door policy, and will maintain confidentiality: Scott Ferguson; Marisa De la O; Manuel Martínez; Paty Villaseñor; Leonor Herradura; Óscar Bañuelos; María Paula De León; Jonalyn Gumafelix; Teresa Rodríguez; Sridhar Bhavani; Petr Kosina; Gerardo Carstens; Pedro Aquino; Víctor Hernández; Ciro Sánchez; Germán Mingramm; Caritina Venado; Fabiola Mendoza; Fred Kanampiu; Sarah Kibera; Dan Makumbi; Seher Turkyilmaz; Julie Nicol; Cosmos Magorokosho; Peter Setimela; Mulugetta Mekuria.