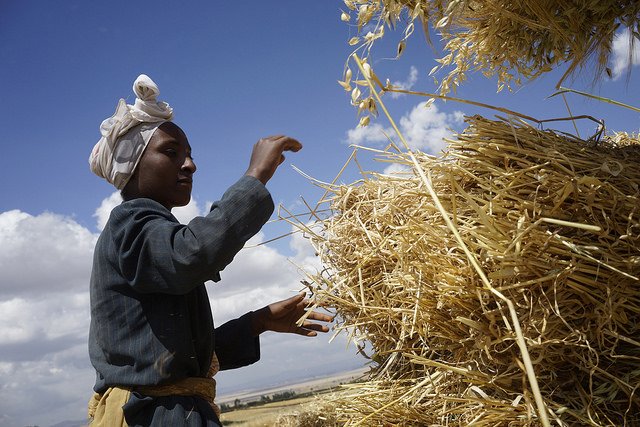 ADDIS ABABA, Ethiopia (CIMMYT) – After eight years the Sustainable Intensification of Maize-Legume Cropping Systems for Food Security in Eastern and Southern Africa (SIMLESA) project concludes this June.
Led by the International Maize and Wheat Improvement Center (CIMMYT) and funded by the Australian Centre for International Agricultural Research (ACIAR), the multi-regional project has helped over 235,000 farming households adopt more sustainable practices to cope with the effects of climate change and declining soil fertility.
"The work done by SIMLESA has yielded increasing farm-level food security and productivity, in the context of climate risk and change," said Eyasu Abraha, Ethiopian Minister for Agriculture and Natural Resources, at the official opening of SIMLESA's end of project external review and stakeholders' meeting. The four-day event reflected on the project's achievements, challenges and opportunities through an external project review and stakeholder discussions.
According to the U.N. Intergovernmental Panel on Climate Change, Africa is the most vulnerable region to climate change, with erratic rainfall and increasing temperatures already causing crop failures. Small-scale family farmers, who provide the majority of food in Africa, are expected to be the worst affected.
In response, SIMLESA has facilitated the release of 40 improved maize and 64 legume varieties to smallholder farmers in Ethiopia, Kenya, Malawi, Mozambique, and Tanzania and spill over countries of Botswana, Rwanda and Uganda since 2010. The spillover countries are benefitting from ongoing SIMLESA research activities. Maize is a major staple crop and legumes provide nutrition, income and improve soil fertility in most of Africa, and both crops provide vital cash income to families across the region, says ACIAR.
The project focused primarily on improving maize-legume cropping systems by encouraging the adoption of intensification of agricultural practices that offer the potential to simultaneously address a number of pressing development objectives, unlocking agriculture's potential to adapt farming systems to climate change and sustainably manage land, soil, nutrient and water resources, while improving food and nutrition.
The review also found that SIMLESA could have even greater impact by strengthening its livelihoods focus, such as promoting diversification in household food and nutrition.
"While taking stock on our achievements, we are aware that there are still major challenges to be overcome," said Mulugetta Mekuria, CIMMYT senior scientist and SIMLESA project leader. "We now seek to extend our impact by learning from past and current work, case studies and trying new ideas, technologies and approaches."
SIMLESA is currently consolidating cropping trials and training farmers in its final year, and laying the foundations for a follow-up project that would focus on researching sustainable intensification, diversification, smallholder mechanization and crop-livestock integration across Africa. Meeting attendees also proposed a one-year extension period of the project to help consolidate, synthesize, publish and disseminate current achievements, and draw lessons and insights from the last two SIMLESA phases.
The project is working to improve maize and legume productivity by 30 percent and to reduce the expected downside yield risk by 30 percent for approximately 650,000 small farming households by 2023. There is high possibility for a third phase of the project although this has not been confirmed yet.