During 25-26 February 2013, 22 participants drawn from seed companies, national agricultural research institutes, and CIMMYT met in Arusha, Tanzania, for the regional Maize Working Group (MWG) meeting, a forum that brings together participants from country MWGs in Ethiopia, Kenya, Tanzania, and Uganda. The Drought Tolerant Maize in Africa (DTMA) project used this opportunity to recognize national partners that perform well in breeding, maize technology development, and dissemination, as the project has done in previous years. The National Agricultural Research Organization (NARO) was awarded the best maize breeding team of 2012 prize, but its members were not the only ones receiving a plaque and certificates of recognition. "As this culture has served as a motivating tool for the partners involved in the project, it was decided to begin awarding not just the best team but also runners up," explained the project's administrator Kamau Kimani. "It is an honor to see recognition of the significant effort we have made in breeding and disseminating maize together with the private sector," said Godfrey Asea, a NARO maize breeder. "It is also a challenge to keep the momentum to achieve targets in DTMA and translate this to food security for farmers," added Asea.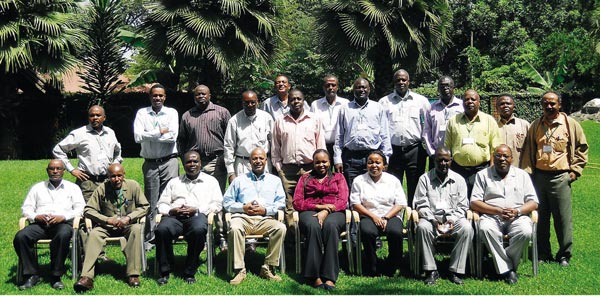 Speaking during the meeting, the DTMA project leader Tsedeke Abate emphasized that drought tolerant varieties perform well even under optimal conditions and are therefore not only meant for marginal drought-prone areas. "Varieties have to be supported by good management practices, land preparation, timely planting, input use, and cultivation," said Abate. The work, challenges, and successes of MWG partners in the four above-listed countries were discussed. The participants received feedback on sub-grant proposals they had made for support in maize research activities in the region. The national programs and seed companies have benefited through "access to improved maize varieties, more collaboration on multi-locational variety testing, and exposure through interaction with other scientists," said Sammy Ajanga, the chair of MWG Kenya. "Our varieties have a better chance of being released to the farmers," said Ajanga as he cited the advantages of the multi-locational field trials facilitated through collaborative research across the region.
Participants also observed a minute of silence in memory of the late CIMMYT maize breeder Strafford Twumasi-Afriyie, a former key member of the MWG and the leader of Nutritious Maize for Ethiopia (NuME). "Twumasi was a very passionate maize breeder," said principal scientist Stephen Mugo, highlighting the work he did in quality protein maize breeding.
During the meeting, Peter Matowo, a maize breeder from Tanzania, was elected chair of the Eastern Africa Regional MWG.