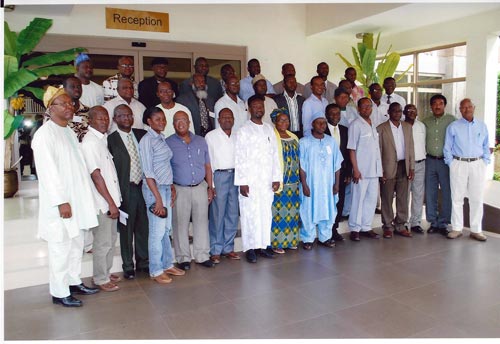 The Regional Planning Meeting for phase III of the Drought Tolerant Maize for Africa (DTMA) project was held in Kumasi, Ghana, during the week of 16-19 April 2012. The objectives of this meeting were to (i) review and document progress on DTMA project activities conducted in West Africa in 2011, (ii) present, critically review, and approve project proposals submitted for funding by partner countries Benin Republic, Ghana, Mali, and Nigeria under phase III, and develop work plans for the 2012 cropping season. The regional meetings have proved instrumental in planning and monitoring of DTMA project activities and building the requisite partnerships for successful implementation of the project.
The meeting was attended by 26 participants, representing research institutions, national agricultural research system (NARS) partners, NGOs, and seed companies. NARS scientists from the partner countries presented 20 progress reports and received feedback. All the presenters highlighted the importance of engaging partners from diverse disciplines in successfully implementing project activities in their respective countries. Discussion sessions were devoted to peer-review of the four partner countries' 2012 work plans on complementary breeding, seed production, regional trials, national performance, and on-farm trials, demonstrations and promotional activities.
After this, national group meetings were held to revise the work plans taking into consideration the input provided, and these were then presented during plenary sessions. During the meeting, it was reported that a total of 38 new drought tolerant maize varieties have so far been released, including seven hybrids, with a total of 1,057 metric tons of seed produced. The DTMA project, which is jointly led by CIMMYT and the International Institute of Tropical Agriculture (IITA), makes annual awards to the best teams in each region to motivate scientists and foster healthy competition among partner countries. An award committee consisting of a representative from each of the participating countries and two independent members convened during the planning meeting, and assessed achievements and progress made in 2011. Ghana received the award for the best technology promotion team award in West Africa, while Nigeria received the best breeding team award. The runners-up were the Malian team for technology promotion and Benin Republic for breeding. Hans Adu-Dapaah, director of the Ghanaian Council for Scientific and Industrial Research's Crops Research Institute (CSIR-CRI), presented the awards to the winning teams during the closing ceremony. IITA also presented CIMMYT's Wilfred Mwangi with a plaque as a token of appreciation for his good leadership of the DTMA project in phases I and II.