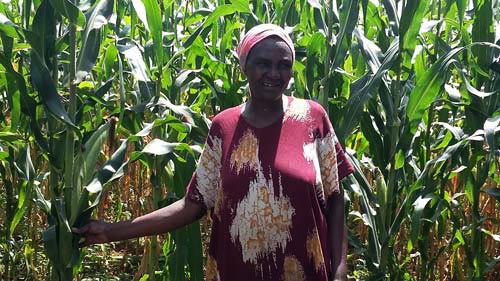 Maize farming in western Kenya is leaping one notch higher thanks to maize variety WH507, which is becoming farmers' first choice because of two very important traits–drought tolerance and nitrogen-use efficiency.
Like millions of other African smallholders, most farmers in the region struggle with poor soil fertility. Given their economic constraints, they are unable to apply the required amount of fertilizers to boost productivity on their farms. This is exacerbated by erratic rains that increase chances of crop failure and very low yields. Yet many of Africa's maize-growing households rely on maize not only as their staple food, but also as a source of income.
To help farmers mitigate the challenge of poor soil fertility and drought, the CIMMYT-led project Improved Maize for African Soils (IMAS) provided support to a local seed company in Kenya to mass produce parent seed of hybrid variety WH507. The goal was to increase its availability and ensure farmers can purchase it at the current market price of KES 410 (US$ 4) per two-kilogram pack.
Western Seed Company, the sole distributor of this seed, aims to produce 1,000 tonnes of WH507 parent seed. It has also undertaken various activities to increase adoption of WH507 among farmers in western Kenya. To this end, in 2014 alone, Western Seed conducted demonstrations on 1,200 plots during the short rains to make farmers aware of the variety. One farmer, Azbetta Ogembo, a widow and mother of seven, was pleasantly surprised by her first experience with WH507.
Read more on CIMMYT's Africa page here.