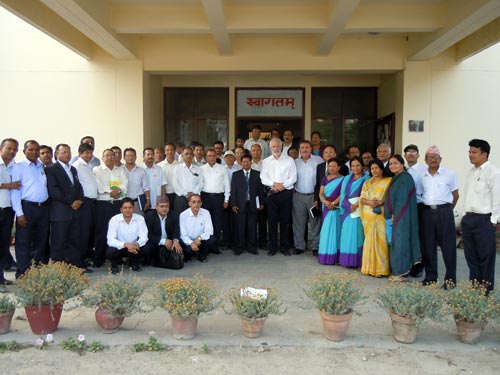 CIMMYT director general Thomas Lumpkin visited Nepal during 01-03 May 2012. One of the main objectives of his visit was to discuss the Borlaug Institute for South Asia (BISA) launched last year in India, and the potential for Nepal to follow a similar model, with Nepal Agricultural Research Council (NARC) and CIMMYT scientists.
Lumpkin also had fruitful technical and administrative discussions with international and national CIMMYT staff based in Kathmandu. Together with several NARC directors—including Tek Bahadur Gurung (director of administration and interim executive director), B.N. Mahto (director of planning and coordination), and Neeranjan Adhikari (director of crops and horticulture)—he visited three potential sites at NARC's Khumaltar research station, on the outskirts of Kathmandu, where the main Nepal BISA administrative building and research and training facilities could be located. From CIMMYT, the group also included Guillermo Ortiz Ferrara, country liaison officer (CLO) for Nepal, Nirmal Gadal and Dilli Bahadur K.C. of the Hill Maize Research Project (HMRP), and CIMMYT-Nepal office manager Surath Pradhan.
"CIMMYT is interested in expanding the crop improvement and crop management systems research and development activities being conducted in collaboration with the Ministry of Agriculture and Cooperatives, NARC, and all the other partners who have been associated with CIMMYT in Nepal for more than 40 years," said Lumpkin. "We look forward to a Nepal BISA that can enable CIMMYT and its partners to deliver greater impact toward the food security in the country." On behalf of NARC, Tek Bahadur Gurung expressed NARC's interest and unconditional support to make the Nepal BISA a reality. NARC management, the CIMMYT CLO, and other senior CIMMYT staff based in Nepal will soon meet to develop a strategy and start the process of designing and implementing BISA Nepal.
On the second day of his visit, Lumpkin was invited to deliver a lecture at the Nepal Agricultural Research Institute (NARI) on "Food security in South Asia: Opportunities and challenges for agro-eco-scientists". More than 50 scientists from NARC and NARI attended the lecture, which generated a lot of interest and a lively discussion. Lumpkin was also asked to inaugurate a sports event at Khumaltar organized by NARC, making the first serve in a volleyball tournament. Colleagues observed: "Not a bad serve for a person who travels more than 200 days a year!"