During Science Week (15-18 June) held at CIMMYT headquarters in El Batán, Mexico, scientists from around the world gathered to share the successes and review the activities of different CIMMYT programs. Attendees sought to find solutions to help meet global food needs related to basic cereals, as well as combat poverty and face the challenges posed by climate change.
CIMMYT staff from around the world came together to discuss key points and identify new opportunities for improving work quality, learn-change processes, work plans for the coming decades and CIMMYT's role in science and development.
"The main objective of this Science Week is to take CIMMYT to a higher level of quality and create more impacts," said CIMMYT Director General Martin Kropff, who welcomed scientists from all over the world. Kropff highlighted the importance of research to learn change processes for the next decades and reaffirm CIMMYT's goals while interacting with external partners.
For Kropff, Science Week is an opportunity to develop better communication channels so that the ideas of all participants can help formulate a new strategy that fosters better cooperation among the different CIMMYT programs in order to achieve the best impacts.
Kropff also mentioned the importance of CIMMYT's genetic breeding work, the work done in our germplasm banks and of strategies aimed at achieving sustainable intensification of cereal production worldwide.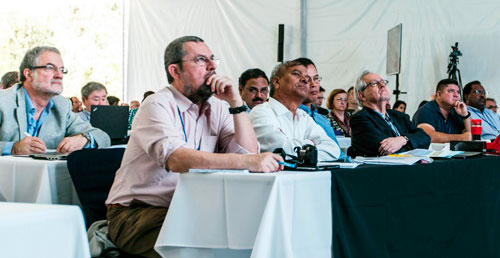 "CIMMYT is a great institution and has grown very quickly, so it is necessary to put all our scientists to work and develop new plans, new projects and new ways of making future impacts," said Kropff.
In his final remarks, the Director General said he was very happy to be part of CIMMYT because of the great scope for improvement that events like Science Week provide. "This is the best start one could have, to know all CIMMYT staff worldwide and that they know me, so we can communicate more openly," Kropff said.