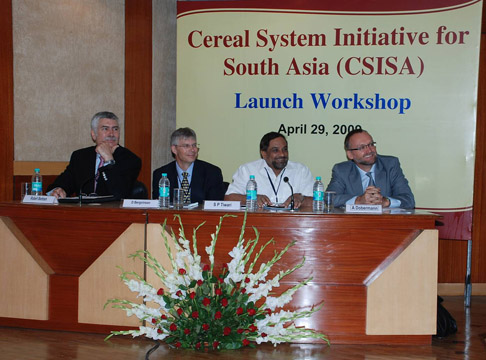 The Cereal Systems Initiative for South Asia (CSISA) was formally initiated 29 April 2009 in Delhi, India. This large project, which is jointly funded by the Bill & Melinda Gates Foundation and USAID, brings together public- and private-sector organizations and international agricultural research centers (IRRI, CIMMYT, IFPRI, and ILRI) to reduce hunger and increase food and income security for resource-poor farm families in South Asia. The launch of this project comes at a critical time for South Asia, home to 40% of the world's poor with nearly half a billion people subsisting on less than USD 1 a day. The project's targeted countries of Bangladesh, India, Nepal, and Pakistan are struggling to boost grain supplies in the wake of growing demand and strained natural resources. CSISA aims to increase the cereal crop yields of at least 6 million farmers in these regions by at least 0.5 t/ha. With this huge task ahead, time is precious and so many parallel planning activities and interviews for local staff positions were conducted alongside the launch to speed the project's progress.
In addition, several planning workshops preceded the official program launch. CSISA objectives discussed included the widespread delivery and adaptation of production and post-harvest technologies to increase cereal production and raise incomes, and crop and resource management practices for sustainable cereal-based systems. The meetings were attended by many CIMMYT scientists, all of whom will play a role in the project: Hans Braun, Etienne Duveiller, Olaf Erenstein, Raj Gupta, Ravi Gopal Singh, Enam Haque, Arun Joshi, Petr Kosina, Guillermo Ortiz Ferrara, Iván Ortiz-Monasterio, Ken Sayre, Jagadish Timsina, Pat Wall, and P.K. Zaidi.
The launch meeting was followed by a three-day stakeholder workshop to establish a Certified Crop Advisor Program (CCA) in South Asia. CCA is an agricultural extension certification system developed by the American Society of Agronomy for North America. As part of CSISA's Objective 7, the CCA program will be adapted for local needs in South Asia to create a highly-qualified professional workforce for private and public sector extension and to support continued education of program participants.