Research managers and scientists from CIMMYT, Limagrain and Seed Co Limited held a discussion at CIMMYT-Nairobi on 4 July to forge a partnership to effectively tackle the maize lethal necrosis (MLN) disease in Africa.
Scientists from CIMMYT's Global Maize Program, led by BM Prasanna, and representatives of the two companies, including Thierry Rosin (Limagrain lead for global corn research), Michel Debrand (chief executive officer, Limagrain-Africa), Emmanuel Aubry (head of corn research, Limagrain-South America) and Ephrame Havazvidi (research manager, Seed Co Limited), had detailed discussions on opportunities for collaborative research on MLN, as well as training and capacity building of African partners.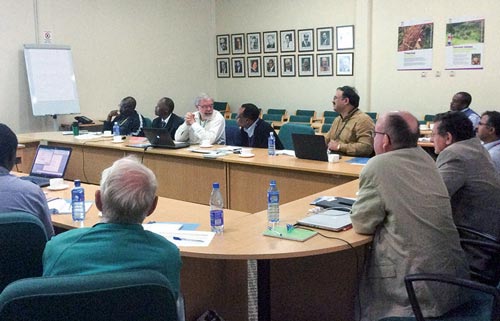 The proposed partnership seeks to fast-track the breeding and release of MLN-tolerant hybrids adapted to Sub-Saharan Africa (SSA) through molecular marker-assisted breeding. "Seed Co is already an important partner of CIMMYT in Africa. Limagrain has been supporting CIMMYT's research work with maize doubled haploids at CIMMYT in Mexico, and disease resistance in Asia," said Prasanna, adding that through this proposed partnership all parties would bring various strengths to the effort of finding effective solutions to MLN.
MLN has resulted in significant yield losses to smallholder farmers in East Africa. Therefore, it is important to identify and develop germplasm with MLN tolerance to replace the susceptible varieties in SSA as quickly as possible. "CIMMYT's recent work on identification of trait donors for MLN tolerance, coupled with the establishment of the MLN screening facility at Naivasha, serve as an important foundation for this partnership to develop improved maize varieties for Sub-Saharan Africa with MLN tolerance and other adaptive traits," said Prasanna.
The visitors from Limagrain and Seed Co also toured the MLN Screening Facility at Naivasha, where germplasm from public and private sector partners is being screened. "It was a very good eye-opener on the MLN disease," said Havazvidi, who described the MLN research for development efforts of CIMMYT as "well-thought-out," especially with respect to the investigation of screening protocols and identification of sources of resistance to the disease. "I was impressed with the size of the screening and the professionalism in developing and managing the work at the MLN screening facility," Rosin said.
"I learned a lot about MLN which was new to me," stated Aubry. Debrand commented that, "the research collaboration with CIMMYT will enhance the impact of Limagrain and Seed Co in Africa, especially with reference to maizebased food security."