By Florence Sipalla/CIMMYT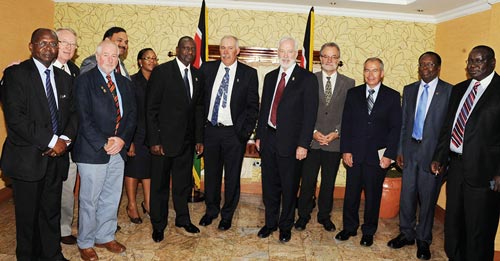 Members of the executive committee of CIMMYT's Board of Trustees and Management Committee, along with the director of the Kenya Agricultural Research Institute (KARI), met with Kenya's Deputy President Honorable William Ruto at his office on 27 September in Nairobi.
Ruto was briefed on CIMMYT's work in Kenya, which is geared toward enhancing food security and livelihoods, especially for smallholder farmers. Policy issues such as the importance of wheat as a strategic crop for Africa and transgenic research were also discussed during the meeting. Board Chair Andrew Barr was accompanied by Director General Thomas Lumpkin and board members Tom McKay, John Snape and Salvador Fernandez Riviera. Prasanna Boduppalli, the Nairobi-based director of the CIMMYT Global Maize Program Director; Hans-Joachim Braun, director of the Global Wheat Program; Ephraim Mukisira, director of KARI; and Wilfred Mwangi, regional liaison officer, also participated in the meeting.
In close collaboration with KARI, CIMMYT has worked in Kenya for almost 40 years, contributing to research on maize, wheat, conservation agriculture and socioeconomics in addition to building the capacity of local scientists in different fields. The role of the newly-inaugurated CIMMYT-KARI Maize Doubled Haploid Facility and the Maize Lethal Necrosis Screening Facility in responding to the challenges posed by the maize disease was also highlighted at the meeting. The Kenyan government was represented at the event by Sicily Kariuki, the principal secretary for the State Department of Agriculture in the Ministry of Agriculture, Livestock and Fisheries, and James Nyoro, senior advisor on food security to the Presidency.
Agriculture is the backbone of Kenya's economy and the CIMMYT-KARI collaboration contributes significantly to more productive agriculture. The government has also demonstrated support for CIMMYT work by donating land for research activities and participating in CIMMYT events, such as this year's Board of Trustees meeting in Nairobi, which was opened by Felix Koskei, Kenya's Cabinet Secretary for Agriculture, Livestock and Fisheries. CIMMYT Director General Thomas Lumpkin displays an agreement between CIMMYT and the World Agroforestry Centre (ICRAF) regarding office space at its headquarters in Nairobi. Lumpkin was accompanied by CIMMYT Regional Liaison Officer Wilfred Mwangi (left) and ICRAF Director of Finance and Operations Laksiri Abeysekera.