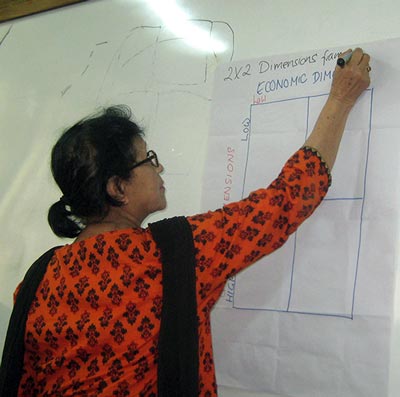 A workshop to select case studies in Nepal for the Global Study on Gender Norms and Capacities for Agricultural Innovation was hosted by CIMMYT on 3 June 2015. This was the first meeting held by CIMMYT-Nepal since the devastating earthquake that hit the country in April, reaffirming staff commitment to continuing research despite the challenges and losses being faced across the country.
The workshop aimed to identify villages in Nepal that could become part of the Study's South Asia case selections on gender norms and agency in agriculture and natural resource management in South Asia. It was organized by the CGIAR in collaboration with CIMMYT and Tahseen Jafry, Professor at Glasgow Caledonian University. Sixteen workshop participants representing the Nepal Agricultural Research Council (NARC), non-governmental organizations, Biodiversity International and CIMMYT gave their input and suggestions as to which communities to target.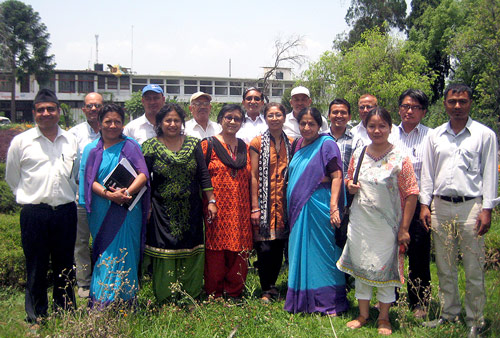 Thousands of young Nepalese men—1,500 a day, by some estimates—migrate every week to work as laborers in the Persian Gulf, India or Malaysia, leaving women to head households and manage smallholder farms in remote areas. According to a World Bank study, this has a negative impact on the level of labor market participation by women from those households. Women make up 62% of the agricultural work force in Nepal, but only around 8% of female laborers receive equal pay for their work.
Strain on infrastructure due to the earthquake is putting even more pressure on vulnerable communities, especially in the countryside. This makes the Global Study even more important to better understand the gender dynamics in rural Nepalese communities and identify what the CGIAR can do to improve livelihoods.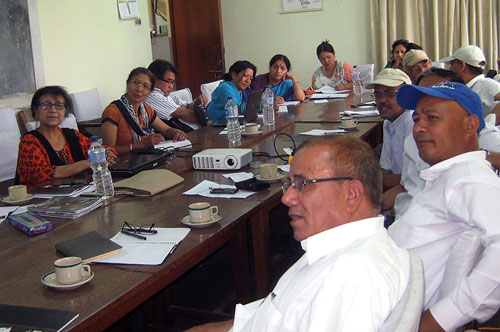 A framework that provides guidance for considering both economic and gender dimensions was used in the case selection process, followed by a discussion to set criteria for identifying sites when looking at gender in wheat and maize in Nepal. Participants adopted three criteria for analyzing potential districts, including identifying: (1) potential wheat and maize producing districts in Nepal; (2) districts falling under the Study's economic and gender dimensions; and (3) one district each for the four maize and wheat segments used to determine a location's dimensions in terms of economic status vs gender gap. After successfully identifying potential districts in Nepal for the Global Study, participants suggested that the study team contact district officials to arrange detailed selection and field visits with farmers' groups.
The event was opened and closed by Arun Joshi, CIMMYT-Nepal Senior Wheat Breeder, and facilitated by Kanchan Lama, Gender Specialist with Women Organizing for Change in Agriculture and Natural Resource Management (WOCAN), and Suman Dhakal, Assistant Lecturer, Institute of Agriculture in Rampur, Nepal, and resource person for the Nepal Global Study team. Also participating in the workshop was K.C. Dilli, CIMMYT-Nepal Monitoring Officer.