Monica Mezzalama, Head of the CIMMYT's Seed Health Unit, searches for MLN resistance in the Biosafety Lab at El Batán. Photo: Sam Storr/CIMMYT
Scientists have made progress in identifying maize varieties that could combat maize lethal necrosis (MLN) disease, reported SciDev.Net Sub-Saharan Africa last month in the article "Experts on track to create maize varieties to tame virus" by Robin Hammond.
The scientific news website reported from the International Conference on Diagnostics and Management of Maize Lethal Necrosis in Africa held in Nairobi, Kenya, 12-14 May. The conference discussed issues on diagnostics and management of the disease, which has wreaked havoc in East Africa since first reported in Kenya in 2011. Curbing the disease is imperative for improving food security in the region, making the development and deployment of new MLN-resistant maize varieties of the utmost importance.
"We have now identified promising lines with resistance to MLN," announced CIMMYT maize breeder Yoseph Beyene.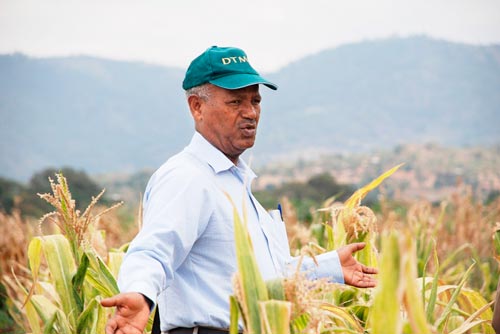 B.M. Prasanna, Director of CIMMYT's Global Maize Program (GMP), discussed the importance of improving MLN surveillance and diagnostic capacity throughout Africa in order to keep the virus from spreading through contaminated seeds. "Farmers also need to be sensitized on appropriate agronomic practices that reduce disease incidence and severity," he added.
To learn more about CIMMYT's comprehensive efforts to combat MLN both in the lab and the field, and the search for resistance, view the recently published article here on MAIZE.org.