By Jack McHugh /CIMMYT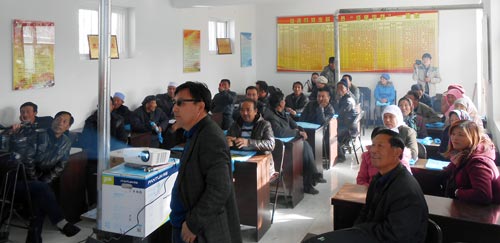 A conservation agriculture demonstration site and informal farmer field school opened recently in northern China, raising awareness about useful new technology among farmers and other stakeholders. Organizations in Wuzhong City, Ningxia, – including CIMMYT, the Ningxia Academy of Agricultural and Forestry Sciences, Ningxia Bei Li Feng Zhongye Seed Company, the Wuzhong City and Litong District Agricultural Technology Promotion Centre, the Qingdao Peanut Machinery Manufacturing Company and the villagers of Litong District – are working together to build an innovation platform (IP). The IP will aim to transfer knowledge and technology to improve agronomic practices of the farmers in the district and beyond. "We hope to develop champion farmers who will share their knowledge with others and thus provide valuable feedback to the community of practice associated with the platform," said Jack McHugh, a CIMMYT cropping systems agronomist based in China.
The 20-hectare conservation agriculture demonstration site and field school are particularly useful for female farmers in Litong District, where many men participate in long-term, off-farm work. The training gives women access to the knowledge, skills and capacity to operate farms more profitably while using less labor. "Our purpose is to introduce affordable technology that makes conservation agriculture possible," McHugh said. "We have great expectations for its future development because we are developing a community of practice."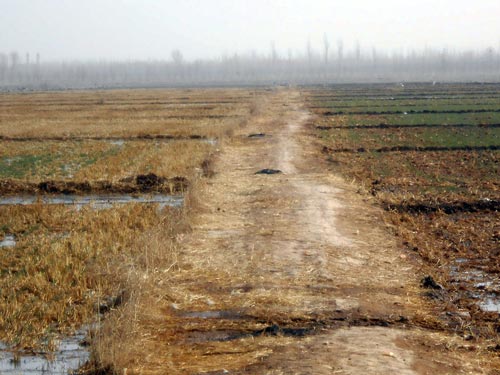 This month, CIMMYT agronomists saw the benefits of the Chinese zero-tillage turbo seeder introduced by the Qingdao Peanut Machinery Manufacturing Company. The seeder allows seed to be sown and fertilizer applied directly into unplowed soil. The winter wheat crop was planted late with some concern, but the seeder "did a great job," McHugh said. The 50-horsepower tractor seeder and 20-horsepower tractor mini-turbo seeder will be refined to enhance crop flexibility, field setup and ease of operation. At the informal field school held last month at the innovation platform demonstration site, McHugh and Professor Yuan Hanmin from the agricultural academy in Ningxia gave a presentation on the basics of conservation agriculture. Participants included 32 farmers – 40 percent female – who raised questions about fertilization with the turbo seeder and the impacts of residue on rice transplanting. "We were able to show – through Professors Yuan's pictures of his work over the last decade in Ningxia – that these and other concerns held by the farmers are readily addressed," McHugh said. "We emphasized that this presentation was a generic introduction to conservation agriculture and that the innovation platform would work closely with farmers to address specific issues they may have when introducing the technology into their farming operations." The projects are receiving attention throughout the region. Recent events have been documented by the Wuzhong daily newspaper and with interviews by local television stations from Yinchuan and Wuzhong cities.