On 3 May 2012, CIMMYT marked 15 years of partnership with the Rural Development Administration (RDA) of South Korea. To commemorate this anniversary, a Plaque of Appreciation recognizing CIMMYT's outstanding contribution and commitment to enhancing the food production of the Republic of Korea through its strong partnership with RDA in research on breeding and varietal development of wheat, barley and maize, was presented to CIMMYT director general Thomas Lumpkin, BISA director of research and assistant director for the Global Wheat Program Etienne Duveiller, wheat quality expert and laboratory head Roberto Javier Peña, and wheat geneticist David Bonnett, by adjunct senior scientist in the Global Wheat Program Cheong Young-Keun on behalf of RDA administrator Hyun-Chool Park.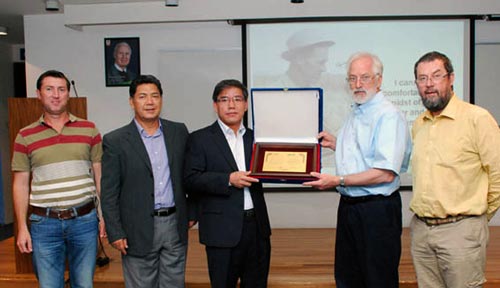 RDA is a central government organization responsible for agricultural research and services. Since its foundation, it has helped South Korea to achieve self-sufficiency in rice and other staple food production through dissemination and promotion of high-yielding cultivars and improved cropping technologies, and contributed to the improvement of the rural environment.
RDA began its collaboration with CIMMYT in 1996 through the use of CIMMYT germplasm. As a result, 32 wheat varieties with early maturity, high yield, and fusarium resistance have been developed, including the "geumgang" variety occupying 85 percent of the wheat-cultivated area in South Korea. CIMMYT has also hosted over 50 South Korean scientists and students in various training courses, visits, and internship programs. CIMMYT hopes to continue and strengthen its partnership with RDA South Korea in the future.