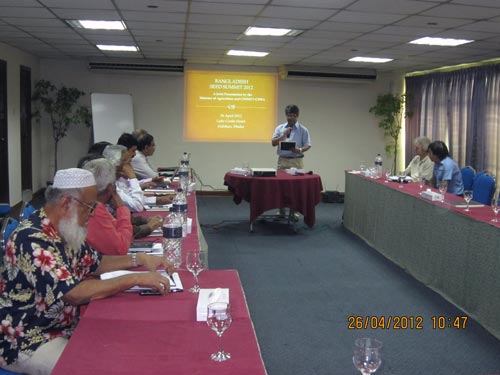 Food security is highlighted as one of the main priorities for Bangladesh in the country's Investment Plan, and a sustainable seed supply constitutes a pivotal component of food security. With this in mind, a maize and wheat "seed summit" was jointly organized by the Ministry of Agriculture (MoA) and CIMMYT at the Hotel Lake Castle in Dhaka on 26 April 2012.
The event was chaired by Anwar Faruque, additional secretary for the MoA, and Shirazul Islam, research director of the Bangladesh Agriculture Research Institute (BARI). There were about 30 participants representing the MoA, the Bangladesh Agricultural Research Council (BARC), the Bangladesh Agricultural Development Corporation (BADC), several seed companies, CIMMYT, the International Rice Research Institute (IRRI), and the United States Agency for International Development (USAID).
Aimed at developing a strategic roadmap for sustainable seed production, the meeting provided an opportunity for specialists from across the region to share their knowledge and experiences. Naseer Uddin Ahmed, chief seed technologist at MoA, and Md Nuruzzaman, director of seed and horticulture at BADC, talked about opportunities and challenges for sustainable seed production and dissemination in Bangladesh. CIMMYT consultant Stephen Waddington shared findings from the Seed Sector Scoping Study for South Asia.
Anwar Faruque stressed the need for the private sector and government to work jointly to ensure the availability of affordable, quality seed for resource-poor and marginal farmers. CIMMYT maize breeder Bindiganavile Vivek described that very approach being pursued under the International Maize Improvement Consortium (IMIC)-Asia, saying it was gaining popularity across Asia.
Participants expressed considerable interest, particularly at the possibility of accessing finished hybrids.
On behalf of the Bangladesh Rehabilitation Assistance Committee (BRAC), Sudhir Chandra Nath spoke alongside M.A. Razzaque, executive director of Lal Teer Seed Company, and B.I Siddidue of Siddiquis Seeds, on private seed production challenges and opportunities in Bangladesh and associated expectations from the public sector.
A "Roundtable Discussion for Roadmap Development" was led by CIMMYT agricultural economist Frederick Rossi, where many issues and follow-ups were identified, including ways to encourage private sector involvement. Much discussion was generated on how to increase the relevance of maize hybrids from BARI and therefore reduce dependency on importing hybrid seeds from elsewhere. Private company representatives expressed their interest in improving the diversity, efficiency, and sustainability of wheat and maize seed systems. The CIMMYT Bangladesh office will help to organize a series of follow-up meetings to reach a consensus on the fundamental features of a sustainable and functional seed system for Bangladesh.