By Arun Joshi /CIMMYT
Over the past five years, more than a dozen new stress tolerant wheat varieties have become available to farmers in South Asia, through breeding research and partnerships as part of the Cereal Systems Initiative for South Asia (CSISA), according to Arun K. Joshi, CIMMYT wheat breeder. Joshi said that germplasm exchange with CIMMYT had increased significantly; that most advanced breeding lines in CIMMYT trials were resistant to Ug99 stem rust and other rusts; more segregating generation lines from South Asia were being sent to Njoro, Kenya, for stem rust resistance screening; the use of physiological tools to select for heat and drought tolerance in the region had increased; links among breeders, seed producers and farmers had strengthened; and capacity building had been promoted.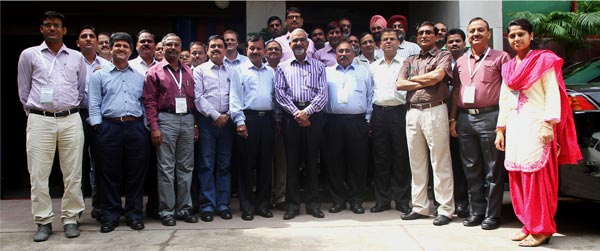 These and other achievements, as well as challenges and opportunities for improvement, came to light in two recent review meetings in Dhaka, Bangladesh. From 6 to 8 October, 56 scientists from Bangladesh, Bhutan, India and Nepal, as well as representatives of government councils and ministries, research centers, agricultural institutes and universities, convened for CSISA's 5th wheat breeding review meeting. Participants also attended the 2nd review and work plan meeting for the project, "Increasing the productivity of the wheat crop under conditions of rising temperatures and water scarcity in South Asia," funded by the Federal Ministry for Economic Cooperation and Development, Germany. The meetings were organized by Joshi, team leader of the two projects in South Asia, and facilitated by CIMMYT's Dhaka office, led by T.P. Tiwari. CIMMYT was represented in the meetings by scientists from Bangladesh, India and Nepal and a consultant from Cambridge.
The CSISA meeting reviewed the progress of the 2012-13 wheat cycle and established work plans for the 2013-14 crop cycle. The event was inaugurated by chief guest Khalid Sultan, director of research at the Bangladesh Agricultural Research Institute (BARI), and R.P. Dua, assistant director general for the Indian Council of Agricultural research (ICAR). Dua praised the regional focus and presence of CSISA wheat breeding, and Sultan said "the South Asia-CIMMYT collaboration is paramount to the food security of the region." Ten participating research centers presented reports and work plans.
Participants discussed how to strengthen links among wheat breeding, fast-track seed production, distribute new, improved varieties to farmers and work on conservation agriculture and participatory variety selection. Wheat breeders, pathologists, physiologists, agronomists and soil scientists attended the "Increasing the productivity of the wheat crop" meeting, which addressed project work plans and progress in breeding and agronomy.
Six Indian research centers reported on progress in evaluating more than 3,300 wheat lines screened last cycle for early sowing, as well as the 2013-14 work plan. The top 50 lines will be used to develop two trials in India: one for the northwestern plains and one for the central and peninsular zone, Joshi said. He also presented the highlights of the molecular research by Marion Roder, Leibniz Institute of Plant Genetics and Crop Plant Research, Germany, and Susanne Dreisigacker, CIMMYT molecular breeder, in screening some 3,000 wheat lines for genes controlling vernalization and response to changes in day length.