By Brenna Goth/CIMMYT
Indian researchers A.G. Sreenivas and U.K. Shanwad hope their first visit to Mexico will yield the tools they need to address cropping systems and climate change in their home country.
Sreenivas, an associate professor of entomology at the University of Agricultural Sciences Raichur, and Shanwad, an agronomist at the university's Main Agricultural Research Station, are visiting CIMMYT as trainees. Their university is already collaborating with CIMMYT's M.L. Jat to spread drill sown rice in India. Coverage reached more than 60,000 acres in the Upper Krishna command area in its first year of introduction.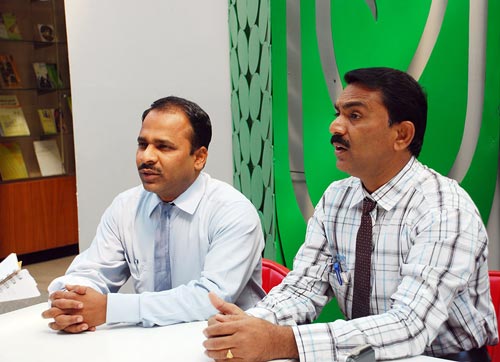 The two will spend three months between CIMMYT research stations at El Batán and Ciudad Obregón. The training will first focus on the integrated assessment of cropping systems to determine productivity, resource efficiency and vulnerability and adaptability to climate change. Under Santiago López-Ridaura, the trainees will learn about the trade-offs between performance indicators and constraints to adapting a climatesmart cropping system. Next, in Ciudad Obregón, Sreenivas and Shanwad will learn the methodologies involved in collecting, processing and analyzing greenhouse gases and soil samples under the supervision of Iván Ortiz-Monasterio. "It's a very rich experience for us," Shanwad said.
Agricultural production in India faces several challenges, the trainees said. Labor requirements, monsoon gambling, market fluctuations, improved hybrids and pest resistance are some of the themes the two address in their research. New crop insect pests and diseases are consistently emerging while climate change also poses global challenges. The trainings will focus on the analysis of their own cropping systems. The two brought longterm weather data to compare with insect pests, crop production and weather data of the region. "Productivity has to be increased," Sreenivas said.
Sreenivas and Shanwad said they are enjoying the climate at El Batán as well as the chance to connect with colleagues from India. They are also looking forward to attending The Borlaug Summit on Wheat for Food Security in March and said the opportunity is "like heaven." CIMMYT packs an enormous amount of research into its headquarters, Sreenivas said. "We are expecting more collaborative research," he said.