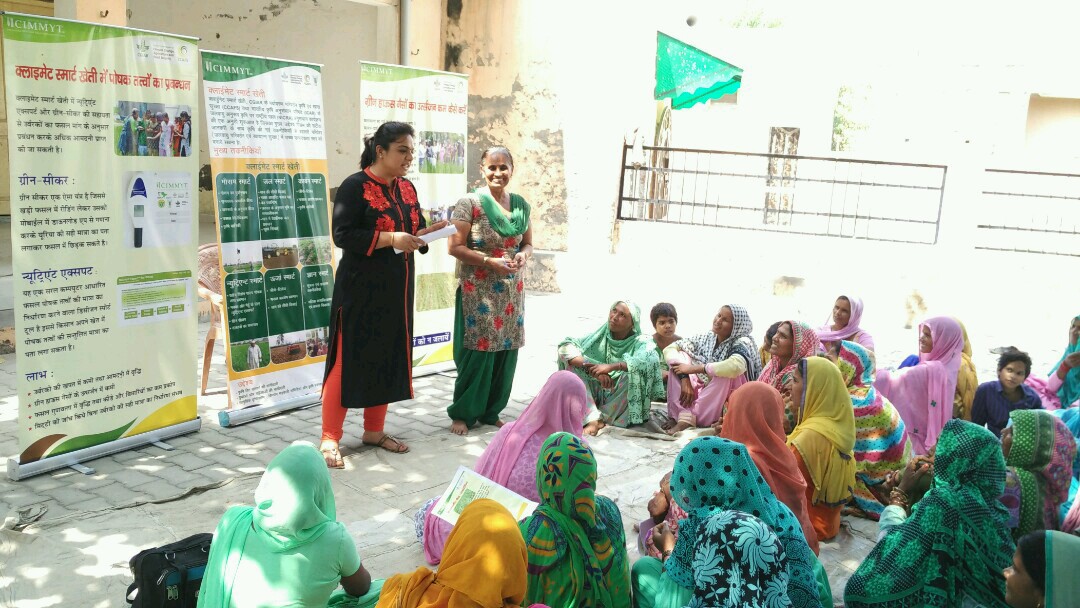 In the Indian state of Haryana, women are actively involved in farm operations but do not contribute significantly to decision-making. An effective way to enhance women's decision-making and promote gender equity is to teach them to use new agricultural technologies and thus generate higher yields and better income. How technological change contributes to women's empowerment has thus become an important area of study in India's male-dominated farm sector.
Under the aegis of CGIAR Research Program on Climate Change, Agriculture and Food Security (CCAFS), CIMMYT is working on developing climate-smart agricultural practices (CSAPs) that enable farmers to reduce climate-related risks. As part of this activity, CIMMYT-CCAFS is joining hands with a leading NGO, Arpana Services (www.arpanaservices.org), that seeks to enhance livelihoods in rural areas of the states of Haryana, Himachal Pradesh and Delhi. More to the point in this case, it works with 830 self-help groups including 11,600 women across 100 villages in Haryana.
CIMMYT will build confidence and awareness among the women's groups Arpana has formed by instructing them on CSAPs and their use. CIMMYT and Arpana will merge their areas of expertise to promote CSAP adoption among female smallholders, thereby benefiting farm households. They plan to provide capacity building programs aimed at educating female farmers on technical aspects of sustainable intensification and making them realize the importance of nutrition by introducing legumes into their cropping systems.
The women will also be trained to use a farm lekha jokha book, which is an accounting and farm management tool that allows farmers to understand and compare farm expenses that, though important, are commonly neglected. Keeping such records would make women more knowledgeable and help them manage their farms more efficiently, thereby escalating their decision-making authority at home.
Although the CIMMYT-Arpana initiatives target women's empowerment, they will also lead to other socio-economic changes. For example, successful women farmers could help promote CSAPs and convince government and policy makers to make recommendations based on conservation agriculture. In this way, a model encompassing the pre-requisites of sustainable agriculture could be established with women as torch-bearers of the future of agriculture.