Nearly 40 Russian and Kazakhstan scientists from 19 different institutions gathered at Chelyabinsk Scientific Research Institute of Agriculture, located in the Kazakhstan-bordering Russian region of Chelyabinsk, from 03-06 August 2010 for a meeting of the Kazakhstan- Siberia Network on Spring Wheat Improvement (KASIB), which is held once every two years. The main focus of the meeting was to improve wheat resistance to rust disease through effective collaboration.
CIMMYT helped establish KASIB 10 years ago. Today, it unites 15 breeding and research programs from Kazakhstan and Siberia (Russia) with the goal of improving regional spring wheat breeding through the exchange of varieties and breeding materials, complemented by information sharing, workshops, and meetings. About 500 varieties and advanced lines of bread and durum wheat, including varieties already sown on roughly 20 million hectares, have been studied at KASIB nurseries.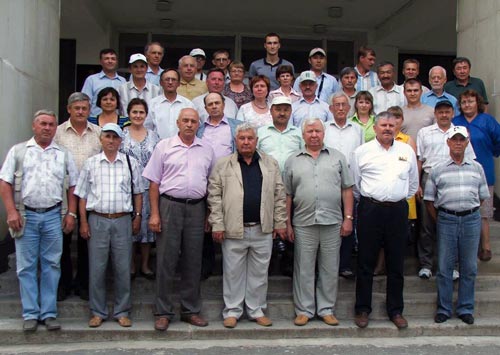 The meeting consisted of lectures on challenges and achievements in wheat breeding, including improvement of rust resistance. Alex Morgounov, of CIMMYT-Turkey and head of the International Wheat Improvement Program, gave an overview of the 8th International Wheat Conference, which was held in St. Petersburg during 01-04 June 2010, and reflected on the current status and latest achievements in wheat breeding. In general, the attending scientists noted that the Kazakhstan-Siberia Network is developing dynamically and that participating institutions are providing varieties for testing that display a higher performance of desirable agronomic traits in comparison with previous years, including resistance to rust (like Ug99). Additionally, breeders are working in harmony to: develop research methodologies; evaluate wheat rust diseases on an international scale; develop criteria to share credit for joint creation of varieties; and increase study on leaf rust, stem rust, and septoria leaf blotch. This shows that there has been an improvement in variety selection and that breeders take KASIB collaboration seriously. Impressed, a number of agencies not currently participating in KASIB expressed their desire to join the network.
Another important aspect of KASIB is shuttle breeding between Kazakhstan and Mexico. This is done in conjunction with CIMMYT's rainfed breeding program, led by Yann Manes, CIMMYT wheat breeder. The resulting new breeding material is not only resistant to leaf and stem rust, but also shows high yield, drought resistance, good end-used grain quality, and the ability to adapt to local conditions. These lines have reached advanced variety yield trials at Fiton Research and Production Company, the Karabalyk Agricultural Experiment Station, and the Chelyabinsk Scientific Research Institute of Agriculture. Two of these lines were incorporated in KASIB's nursery in 2009- 10 and showed good results in broad environmental testing.
Despite these successes, participants did discuss new ways to further improve the KASIB network for both performance and shuttle breeding. Morgounov and Yuriy Zelenskiy, of CIMMYT- Kazakhstan, visited several breeding programs to see how shuttle materials were fairing at various stages of the breeding process and in different ecological zones. Scientists from the KASIB network expressed their gratitude and appreciation to CIMMYT for organizing and funding this meeting.