CIMMYT first introduced conservation agriculture (CA) to the Mwansambo and Zidyana communities of Nkotakhota District, Malawi, in 2005. Assisted by regional NGO Total Land Care (TLC), the project initially targeted just six farmers in each community. Currently, the project is focusing on "Understanding the Adoption and Application of Conservation Agriculture in Southern Africa", and involves governmental extension agencies, field coordinators from TLC and researchers for Chitedze Research Station, and is funded by the International Fund for Agricultural Development (IFAD).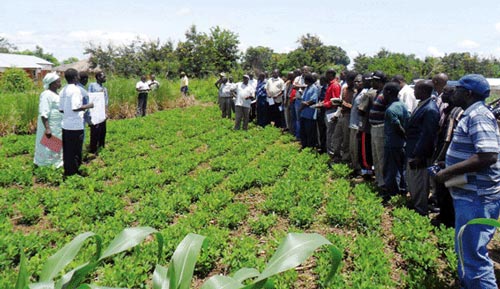 Since 2005, farmers, extension officers, and researchers have joined forces in starting a revolution from traditional farming systems in Malawi to locally adapted CA systems. The number of farmers practicing CA in the TLC communities of Central Malawi has grown from the initial 12 in 2005 to over 30,000 in 2012. This extension of CA was largely due to the development of an innovation network with different actors: Researchers assured training and quality implementation of the new technologies in target communities; the network facilitated participatory interaction and dialogue with farmers; and farmers raised social capital, subsequently boosting interest in the project within their own communities and the surrounding areas. These successful results enabled TLC and other partners to attract further funding and they linked farmers with input suppliers and a soft loan program for herbicides and improved seed. Farmers can currently access the input loan at seeding and pay back the amount for both inputs at harvest. Linking farmers to input markets was a major success, but more work needs to be done to also develop output markets for increased production from CA fields.
During 11-15 February 2012, scientists from the CIMMYT Southern Africa Regional Office visited target communities in Central Malawi, where farmers told them of the economical and environmental benefits of producing maize under CA. "Thanks to higher yields from CA and less labor, I have school fees and more spare time to bake doughnuts and sell them on the market," said Nepiala Thope, a farmer from Chinguluwe. Other farmers are experimenting with growing maize under CA in rotation with other crops such as groundnuts, cowpeas, and cotton. This is a breakthrough for agriculture in Malawi, where maize is traditionally grown as a monocrop, attracting major pests and diseases such as striga, white grubs, cutworms, stalk and grain borers, and various blights. It is hoped that the reduction in pests and diseases, sustainable intensification of maize cropping systems, and increased income through CA will help farmers in the region to improve their food security and livelihoods, and overcome hunger and malnutrition.