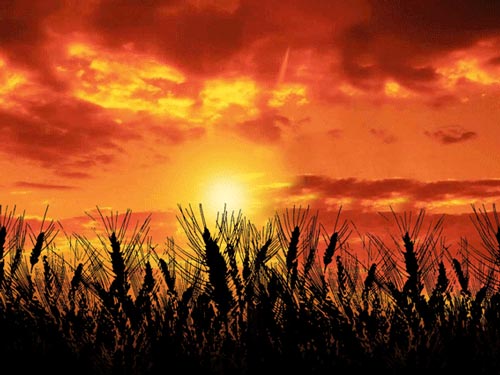 A recent study co-authored by CIMMYT agronomist Iván Ortiz- Monasterio has demonstrated how temperatures greater than 34°C can significantly cut wheat yields. Using nine years of satellite data for wheat grown in northern India, the team showed how previous models had underestimated the effects of high temperatures on senescence and yield. The onset of senescence seriously limits grain filling, and senescence is hastened by high temperatures. In South Asia, if wheat is not sown early enough, the crop reaches grainfilling stage during pre-Monsoon hot spells. Existing models may have underestimated grain losses by as much as 50%, for some sowing dates. "This study shows how innovative research tools like remote sensing can provide important information in the area of agriculture and climate change," said Ortiz-Monasterio.
The study was led by Stanford University scientist David Lobell, who has recently published several important works on climate change and crop yields. The results are particularly significant because India and Mexico are among the countries expected to be most sorely affected by climate change. The Indo-Gangetic Plains are the bread basket of South Asia, providing food and incomes for hundreds of millions.
Since being published in Nature Climate Change on 29 January 2012, the study has received coverage in New Scientist, SciDev.Net, and Reuters, amongst others. CIMMYT breeders are already selecting for wheat lines with more extensive roots, allowing them to find and take up moisture and reduce the effects of heat on the plant. The center has also begun investigating varieties that can be sown earlier and harvested before spring heat.