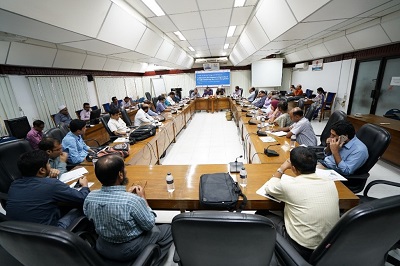 DHAKA, Bangladesh (CIMMYT) – A new joint effort will strengthen or establish drought monitoring and early warning systems in Bangladesh, as well as provide information on local cropping systems in South Asia to boost farmer resilience to climate change.
Regionally specific winter season drought and dry spells during the monsoon are a reoccurring concern in Bangladesh. Drought leads to reduced farming productivity, and climate change predictions suggest further decreases in precipitation in coming years. Additionally, there are uncertainties about where monsoons will flood in the rainy season, limiting groundwater recharge. If farmers are unable to adapt to these changes, bottlenecks in crop productivity and increased food insecurity are likely to result.
The effort will be led by Climate Services for Resilient Development (CSRD) and SERVIR-Hindu Kush Himalaya – a project funded by the United States Agency for International Development (USAID) – using Earth observation data.
A workshop jointly hosted by a number of organizations was recently held at the Bangladesh Agriculture Research Council (BARC) campus in Dhaka, Bangladesh to discuss the development of these agricultural monitoring services. The workshop brought together key partners to discuss anticipated methods, work plans and the user engagement process for effective development and long-term sustainability of the agricultural drought monitoring service.
Under this partnership, BARC is working to strengthen capacity of national research and agricultural extension institutes to use geographic information systems and remote sensing approaches for drought risk management.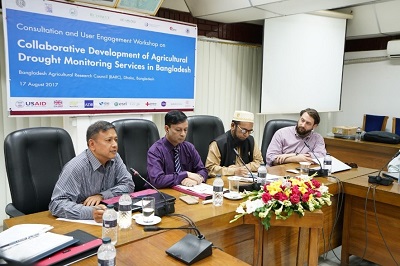 Shams Uddin Ahmed, director of the Bangladesh Meteorological Department, noted that groundwater accessibility is a growing concern due to continued drought. The government has posed restrictions on deep well extraction, except for drinking water, to conserve crucial groundwater resources. He added that access to good quality drought monitoring and early warning information could help develop climate services to help farmers adapt to these challenges.
Muhammad Jalal Uddin, executive chairman of BARC, emphasized the need to adopt new technologies including remote sensing applications to improve predictability of climate hazards like floods and droughts. He added that with the adoption of improved agricultural practices, Bangladesh has become self-sufficient in rice, but that further work is needed to attain overall nutrition sufficiency.
Promoting and enabling climate services that increase farmer resilience to the impacts of climate variability can positively change behaviors and affect policy in developing countries. To do this, collaborators are working together to establish information communication technology platforms to provide user-oriented, easily accessible, timely and decision-relevant scientific information in the form of climate services.
Birendra Bajracharya, regional program manager of the Mountain Environment Regional Information System program at the International Centre for Integrated Mountain Development (ICIMOD), highlighted opportunities of using Earth observation data products for addressing societal challenges. He emphasized the user-centric "services" used by ICIMOD increase the sustainable use of Earth observation information and geospatial technologies for environmental management and improve resilience to climate change in the region.
Read the full workshop summary from ICIMOD here.
CSRD is a a public-private partnership supported by USAID, Department for International Development (DFID), the Met Office, Asian Development Bank, the Inter-American Development Bank, ESRI, Google, the American Red Cross and the Skoll Global Threats Fund.