By Yahya Rauf/CIMMYT
CIMMYT and USDA, in collaboration with the United States Education Foundation for Pakistan (USEFP), launched a capacity enhancement initiative in the form of a coaching course, under the Wheat Productivity Enhancement Program (WPEP).
The objective of the initiative is to ensure that promising young Pakistani wheat scientists apply for and obtain international Ph.D. scholarships. Pakistan lacks professional wheat scientists and most working wheat scientists are at the age of retirement. By 2020, Pakistan will face difficulties due to a shortage of qualified professionals in wheat research. This new initiative is a step forward to develop the country's wheat research capacity.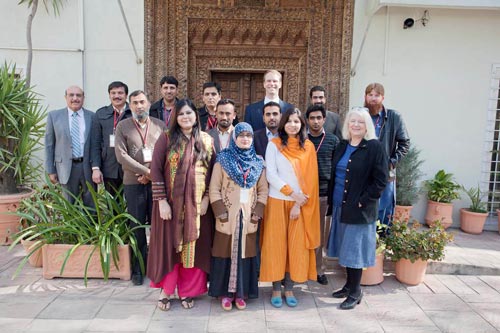 The course recognizes that young scientists need assistance in preparing for the tests, applications and interviews required for international scholarships. CIMMYT and USEFP selected 11 Pakistani wheat scientists from across the country based on their professional skills, association with wheat research and academic potential. The course participants will go through two months of coaching for the GRE, TOEFL and other standardized tests.
CIMMYT Country Representative Imtiaz Muhammad reminded participants at the inaugural ceremony that self-motivation, dedication and devotion are required to achieve the objectives of the course. He also praised the efforts of all stakeholders, including USEFP and USDA staff members, who helped launch this program.
Ian Winborne, USDA Animal and Plant Health Inspection Service plant health advisor, welcomed the participants and said if the first phase of this initiative is successful in accomplishing its objectives, USDA will be interested in funding its continuation.