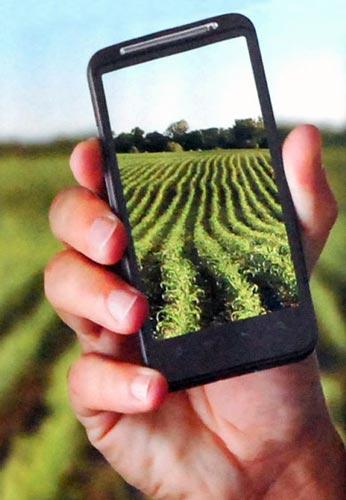 On 1 and 2 August 2012, representatives of public and private organizations interested in developing information technologies for the agricultural sector met at CIMMYT to participate in the MasAgro Movil Think Tank.
The objective of the meeting was to present the work that has been done by MasAgro partners to develop and promote Mexican farmers' adoption of information services provided through mobile phones.
MasAgro Movil is a communications tool being used by "Take It to the Farmer", MasAgro's extension strategy, which is still at the pilot stage. According to Philippa Zamora, who is in charge of developing this project at CIMMYT, MasAgro Movil is a platform that can be used to send market recommendations and weather information to farmers using SMS messages.
"By giving farmers easy access to the information produced by MasAgro's five innovation hubs, cell phones are expected to help increase farmers' productivity and generate higher returns on the money they invest in production inputs," said Bram Govaerts, leader of "Take It to the Farmer."
CIMMYT Director General Thomas Lumpkin pointed out that because researchers involved in MasAgro understand how the different links in Mexico's agri-food value chain operate, they can work with the private sector on developing business opportunities that will boost the productivity of Mexican farmers.
The business meetings of the MasAgro Movil Think Tank were inaugurated by Francisco Mayorga Castañeda, Mexico's Secretary of Agriculture, Livestock, Rural Development, Fisheries, and Food. He congratulated CIMMYT for promoting, through MasAgro, public-private partnerships that foster sustainable rural development.
Mayorga Castañeda also emphasized that right from the beginning, MasAgro Movil will have access to 80,000 farmers who will receive advice from 2,000 technicians belonging to the Strategic Program in Support of the Production Chain of Mexico's Maize and Bean Farmers (PROMAF). For this reason, he is confident the project will be a great success.