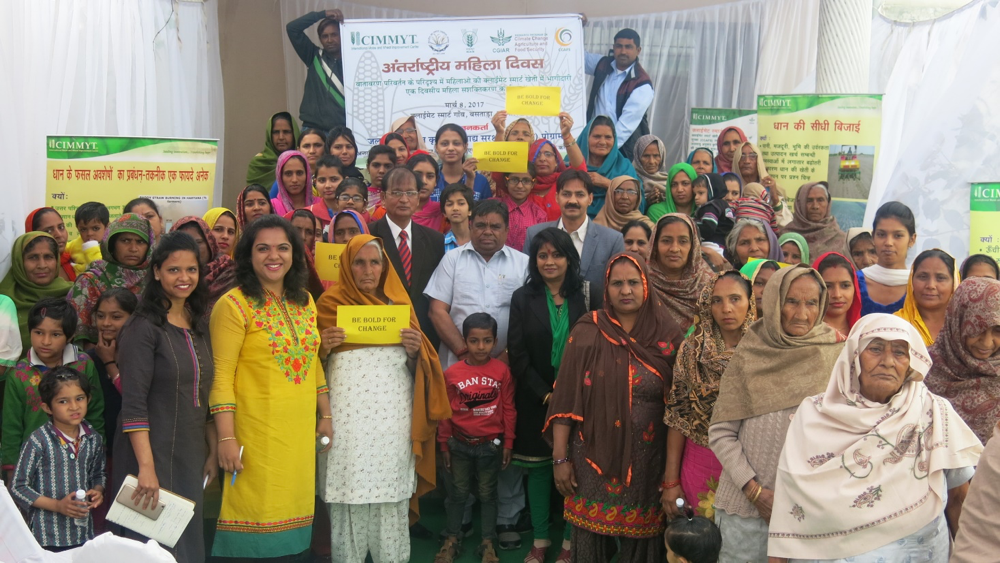 NEW DELHI (CIMMYT) – If women were given the same access to land, seed and other resources as men, they could increase yields on their farm up to 30 percent, reducing the number of hungry people in the world by 150 million. However, large gender disparities in agriculture continue to make it difficult for rural women to access resources and make their own farming decisions.
In response, the International Maize and Wheat Improvement Center (CIMMYT) and the CGIAR Research Program on Climate Change, Agriculture and Food Security (CCAFS) began initiatives to empower rural women such as campaigns to eliminate residue burning, build partnerships with local organizations and more.
Climate-smart agriculture (CSA) addresses the interlinked challenges of food security and climate change by sustainably increasing agricultural productivity, building resilience in food-production systems and reducing greenhouse gas emissions in agriculture.
In celebration of International Women's Day, two events promoting the adoption of CSA technologies and practices among women farmers – like the GreenSeeker sensor, zero tillage farming and others – were organized in the states of Bihar and Haryana, India, representing contrasting agro-ecological and socio-economic regions.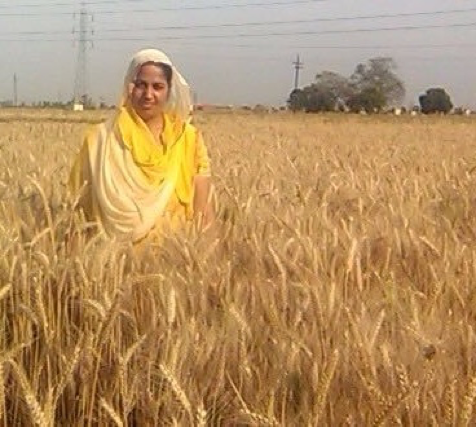 In Bihar, the event was held in collaboration with the Indian Council of Agricultural Research (ICAR)-Research Complex for Eastern Region, Patna and the Borlaug Institute for South Asia and was attended by 80 women farmers from climate smart villages (CSVs), areas that integrate CSA technologies and practices into village development plans, using local knowledge and expertise and supported by local institutions, to help communities adapt to and mitigate the effects of climate change.
Usha Singh, professor of home science at Dr. Rajendra Prasad Central Agriculture University, Bihar, highlighted the role of women in Bihar's agriculture sector and their contribution to sustainable food production, nutrition and livelihoods. Singh shared home remedies to overcome malnutrition among children and women in rural areas by using their farm produce to prepare balanced diet. R.K. Asthana, animal husbandry scientist with the agricultural extension center Krishi Vigyan Kendra (KVK) in Biroli, emphasized the important role training activities for livestock management can have in improving the socioeconomic status of women in the area.
In Haryana, the event was organized at a climate smart village in Bastara, Karnal in collaboration with the ICAR-Central Soil Salinity Research Institute, which was attended by over 70 women farmers from across several villages. Women shared their experiences under CSVs, discussed ways to increase productivity and profitability, and raise awareness among other women farmers in the area.
HS Jat, CIMMYT senior scientist in Karnal, provided an overview of CIMMYT-CCAFS activities in Haryana and emphasized strengthening and formalizing women groups to enhance knowledge and increase access to resources. CIMMYT event organizers and assistant research associates Munmun Rai and Deepak Bijarniya, and assistant research scientist JM Sutaliya, collectively emphasized the positive impact of CSA interventions in India, which have built farmer resilience to climate change while increasing their productivity and incomes. Deepa Chandra and DK Gosain, program coordinators for National Dairy Research Institute's KVK in Haryana, also spoke at the event.
For further information: