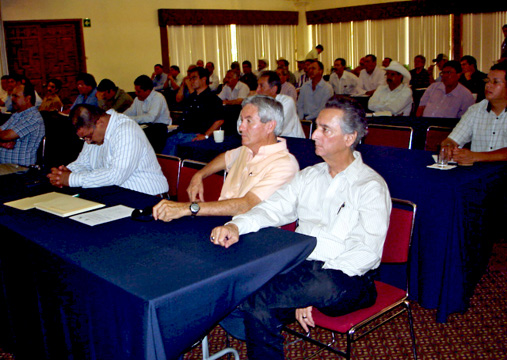 For several years wheat farmers in Sonora State, Mexico, have used infrared sensors to target nitrogen applications more effi ciently. Now, farmers in other major commercial farming regions in Mexico— Guanajuato State, the Mexicali Valley in Baja California, and Sinaloa— also want to experience these savings.
During 21-22 October 2009 partners from these four northern states gathered in Ciudad Obregón to discuss sensor technology transfer through a project funded by the Mexican Ministry of Agriculture. The process has three one-year steps: planting experimental plots with various nitrogen rates and taking readings with the sensor; testing the sensor technology in one hectare sized farmer plots; and finally applying the technology to larger areas. Farmers in Guanajuato State and the Mexicali Valley will work with their wheat fields while those in Sinaloa and Sonora (the first Mexican state to embrace the technology) will work with maize. A corresponding meeting on 22 October highlighted the results of a technology transfer program in southern Sonora with GreenSeeker, the brand name of the infrared sensor used.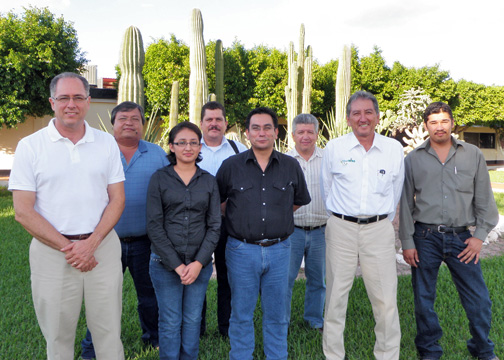 In the last crop cycle, 6,400 hectares of wheat across 271 plots in Sonora were managed using GreenSeeker. Of these 101 were evaluated to show an average savings of 70 kg of nitrogen per hectare, which equaled a monetary savings of US$ 90 per hectare. These plots produced the same yield as those under conventional nitrogen management.
Farmers and farmers' associations received recognition for providing support to the program. Major contributing associations include the technology adoption leader Union of Industrial and Agricultural Credit "Colonos de Irrigación" (UCAICISA) with 1,700 hectares last cycle; the Agricultural Credit Union of Huatabampo (UCAH) with 1,000 hectares; and Agricultural Credit Union of Mayo (UCAMAYO) with 900 hectares. The goal is to increase the total number of hectares of wheat cropped with GreenSeeker in Sonora to 15,000 in the fall-winter 2009-10 cycle.