August, 2004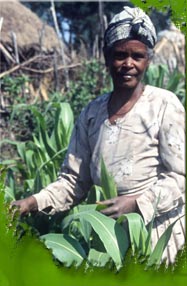 On 22 June 2004, CIMMYT culminated a year of hard work and planning to bring a new focus and intensity to the Center's efforts in sub-Saharan Africa (SSA) by launching its new African Livelihoods Program (ALP) in Nairobi, Kenya. An extensive strategic planning exercise involving stakeholders, donors, and Center staff in the year before the launch resulted in a restructuring of the Center and its programs along with the creation of the ALP.
CIMMYT is no stranger to Africa. We began working with national research programs in the region even before our official opening in 1966. Today, around 40% of our budget is spent in the continent, representing one of the higher investments across the entire CGIAR. Outside of headquarters, CIMMYT's largest contingent of international scientists is based in SSA, primarily in eastern and southern Africa. Center scientists based in Mexico provide active support, and a steady stream of African scientists have been training at headquarters.
Early work focused on the development of improved, higher yielding maize varieties adapted to African agroecosystems. Over time, the mission broadened to include the development of stress and disease tolerant varieties, crop management responses to declining soil fertility, overcoming the parasitic weed Striga, strengthening seed industry and distribution networks, and socioeconomic diagnostic and impact studies.
CIMMYT's research foci in SSA, which have largely been on target, will not change drastically under the new African Livelihoods Program. However, CIMMYT is going to increase the emphasis on improving rural livelihoods through specific maize system interventions. That could include better nutrition through quality protein maize, higher profitability through intercropping/multicropping systems and access to technology and knowledge, or better and more sustainable land use through conservation agriculture techniques.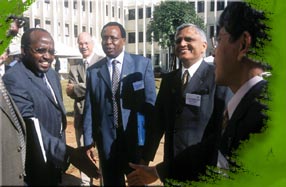 This new course relies on an integrated approach based on teams from diverse fields that bring their expertise to bear on specific problems. Projects will go beyond just the development of variety and technology to explore how to reach farmers with these improvements. CIMMYT cannot do this alone, and there will be a new focus on effective partnerships and networks to "deliver the goods" to farmers.
On hand for the launching event were Kenya's Minister of Agriculture, Hon. Kipruto Arap Kirwa; the Permanent Secretary of the Ministry of Agriculture, Mr. Joseph Kinyua; CIMMYT Director General, Masa Iwanaga; Director of the Kenya Agricultural Research Institute, Dr. Romano Kiome; the ALP director, Shivaji Pandey; and other distinguished guests.
Activities and Impact Highlights
High yielding hybrids and open pollinated varieties (OPVs), and promotion of varieties resistant to maize streak virus, gray leaf spot, and E. turcicum.
Since the mid-1960s, more than 150 hybrids and open pollinated varieties (OPV) released and planted on more than two million hectares in SSA contain CIMMYT germplasm. About 55% of the disease resistant varieties released since 1988 have contained CIMMYT germplasm.
Abiotic stress tolerant maize varieties
SSA farmers say drought is one of their main constraints. In response, CIMMYT is trying to move stress tolerance into OPVs and hybrids. Seed companies and farming communities are producing seed, with deployment exceeding 250,000 hectares in southern Africa. Sales of these varieties have quadrupled over each of the past four years.
Insect Resistant Maize
Conventionally bred maize varieties with resistance to stem boring insects have entered Kenya's National Performance Trials. Transgenic Bt maize is charting new ground and is expected in farmers' fields in 2008. "Firsts" produced by the Insect Resistant Maize in Africa (IRMA) project include the development of insect resistance management strategies for smallholder farmers, extensive pre-release studies on non-target organisms in African cropping systems, marker-free Bt constructs for the African varieties, and construction of the only biosafety greenhouse in SSA outside of South Africa.
Striga resistance and control
Striga inflicts roughly US$2.7 billion in maize losses in SSA annually. CIMMYT and partners have developed a technology based on coating seeds with a herbicide that offers Striga resistance. More than 130 OPVs, inbreds, and hybrids have been converted to herbicide resistance. Five hybrids were nominated for the Kenya National Performance Trials and three have been pre-released.
Quality Protein Maize (QPM)
QPM provides more complete dietary protein, which improves people's nutrition and also their incomes through its use as animal feed. QPM is rapidly being moved into locally adapted varieties in SSA for distribution to farmers. Uganda has released a QPM OPV (Nalongo) that garnered the interest of the World Food Program, which is encouraging local farmers to grow it for emergency food rations.
Regional approach to soil fertility research and diffusion
CIMMYT has served a prominent coordinating and facilitating role in the formation of the SoilFertNet and the soon to be launched Soil Fertility Consortium, which will serve four countries directly in southern Africa and other countries indirectly through the ECAMAW network.
Training and capacity building
Between 1998 and 2004, CIMMYT either sponsored or coordinated more than 150 training events ranging from PhD committee membership, to GMO awareness programs for parliamentarians, to farmer participatory research workshops. Participants from the region took advantage of about 2,500 individual training opportunities.
Socioeconomics
The CIMMYT Economics program has been active in Africa since the 1970s. It has been instrumental in developing the Farming Systems Research approach, which has been a key link in bringing agricultural research closer to farmers. CIMMYT economists in East Africa organized farm surveys, including 22 adoption studies, which provided the basis for most of the quantitative analysis on maize systems we have today.
Mother-Baby participatory research and diffusion
Participatory research has emerged as a major tenet of CIMMYT's research efforts. This has been married with the need to improve technology transfer to farmers in the form of the mother-baby trials—a farmer-centered approach promoted and constantly refined by CIMMYT scientists in southern and eastern Africa. Mother-Baby trials, with the involvement of more than 100 partner organizations, are today grown in 12 African countries.
For more information: Dr. Shivaji Pandey