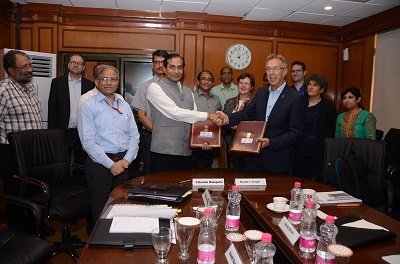 Last week director general of the International Maize and Wheat Improvement Center (CIMMYT), Martin Kropff touched down in India.
For Kropff, the visit would help establish and strengthen several strong private-sector partnerships for CIMMYT, including with UPL Limited, the largest manufacturer of agrochemicals in India.
During his trip, Kropff hosted all India-based staff and partners to a gala dinner to give updates from the headquarters in Mexico and thank stakeholders for their valuable contributions to the CIMMYT mission of i mproving the livelihoods of smallholder farmers.
Kropff spoke at a "Climate-smart agriculture as an investment destination for CSR" talk organized by the CGIAR program on Climate Change and Food Security (CCAFS), the Borlaug Institute of South Asia (BISA) and CIMMYT in association with The Federation of Indian Chambers of Commerce and Industry partners.
The visit culminated in the Ninth Executive Committee Meeting for BISA. BISA is a collaboration between CIMMYT and the Indian Council of Agricultural Research (ICAR). The committee reviewed BISA's financial and research updates, ICAR reiterated its commitment and support to BISA and ICAR director general, Trilochan Mohapatra and Kropff signed the ICAR-CIMMYT five-year work plan for 2018-2022. The work plan was co-developed in consultation with ICAR and CIMMYT scientists and outlines areas of synergy and priority such as exchange of germplasm, technologies, technical cooperation, personnel, joint experimentation, joint publications and capacity enhancement in several frontier areas of research.