The Bangladesh Agricultural Research Institute (BARI) and CIMMYT organized a training course on developing stress tolerant maize at BARI facilities in Gazipur, Joydebpur, Bangladesh, on 21 April 2015. The course, part of CIMMYT's Heat Tolerant Maize for Asia (HTMA) project supported by the United States Agency for International Development under its Feed the Future initiative, gave maize scientists the opportunity to learn the principles, tools and techniques involved in developing high yielding maize hybrids with enhanced tolerance to major abiotic stresses such as drought and heat, as well as how to effectively deploy them.
Ensuring that high yielding, improved varieties continue to be developed in Bangladesh is vital for smallholder farmers to have reliable seed that can thrive despite these abiotic stresses. "Stress tolerant maize hybrids are important to ensure sustainable food security in Bangladesh, especially in view of climate change effects, as our country is identified as one of the most vulnerable zones," said Mohammad Amiruzzaman, BARI Chief Scientific Officer and Plant Breeder.
Attending the course were nearly 30 participants (11 female scientists among them), including maize breeders, agronomists and physiologists from BARI and three other research stations working on maize in Bangladesh. During the course, P.H. Zaidi, CIMMYT Senior Maize Physiologist and HTMA Project Leader, gave lectures on developing stress tolerant maize hybrids, on maize phenology and physiology, and on how maize responds to heat stress; he also provided the technical details of precision phenotyping and the selection criteria used for heat stress breeding. A.R. Sadananda, CIMMYT Maize Seed System Specialist, gave a talk on testing and deploying selected hybrids.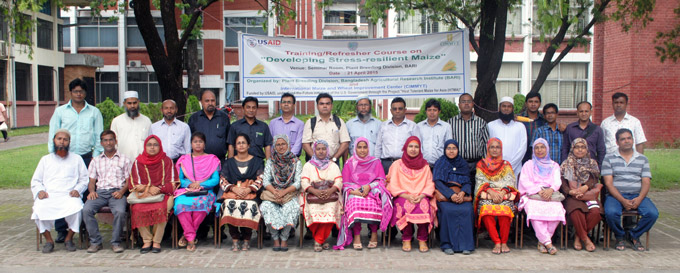 "Maize is one of the important crops for the food security of Bangladesh," said Md. Jalal Uddin, BARI Director of Research in his concluding remarks. He added that the course was a great opportunity for maize researchers to learn many useful aspects of maize improvement and thanked CIMMYT and USAID for the support provided to the Bangladesh Maize Program.