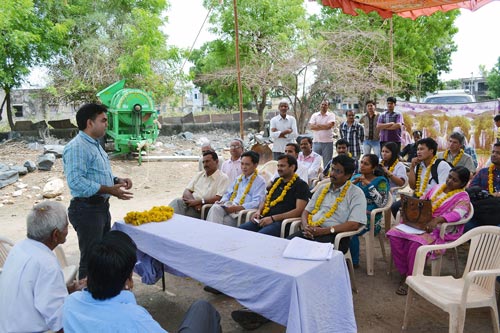 Rajasthan is one of the most stress-prone dry states of India, where farmers grow maize as major crop for food and domestic consumption. As such, it provided a perfect setting for the 2nd Annual Progress Review and Planning Meeting for the Abiotic Stress Tolerant Maize for Asia (ATMA) project. The meeting, jointly organized by the Maharana Pratap University of Agriculture and Technology (MPUAT) and CIMMYT, took place at MPUAT in Udaipur, Rajasthan, during 5-6 June 2013.
ATMA is an Asian regional collaborative initiative led by CIMMYT aimed at increasing income and food security of the resource-poor in South and Southeast Asia. The project connects national agricultural research systems, including the Directorate of Maize Research (DMR), India; MPUAT, India; Acharya NG Ranga Agricultural University, India; National Maize Research Institute (NMRI), Vietnam; Bangladesh Agricultural Research Institute (BARI); Institute of Plant Breeding at the University of the Philippines, Los Baños (IPB-UPLB), Philippines; and the University of Hohenheim, Germany. The project is supported by Deutsche Gesellschaft für Internationale Zusammenarbeit (GIZ).
During his welcome speech addressing participants representing all ATMA collaborators, R.B. Dubey (MPUAT) highlighted the importance of partnerships between CIMMYT and regional institutions, especially for addressing such complex issues as tolerance to abiotic stresses in maize. The welcome address launched the opening session chaired by vice-chancellor of MPUAT-Udaipur Om Prakash Gill. This session consisted of presentations by MPUAT research director P.L. Paliwal, who focused on the university's contributions to agricultural development in general and maize improvement for food security and income of Rajasthan farmers in particular, and by B.S. Vivek (CIMMYT) who talked about the importance of abiotic stresses in maize production in Asia.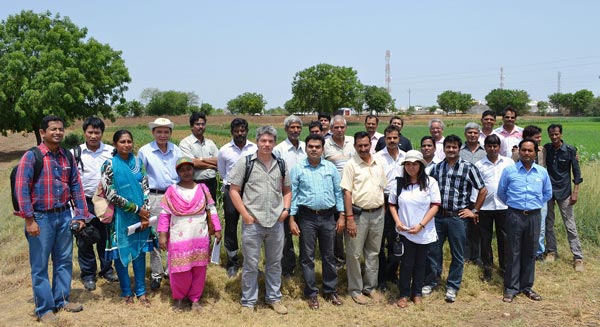 The session's chairman added: "Our maize farmers have many choices regarding high-yielding varieties and technologies for optimal conditions, and they are experts in achieving high yields under such conditions. But when it comes to stress conditions they have very few choices, and that is where they need our intervention."
During a session on annual progress review, the ATMA project leader P.H. Zaidi gave a brief overview of the project, indicating the commitments and milestones. Avinash Singode (DMR), Dang Ngoc Ha (NMRI), Reshma Sultana (BARI), and Ayn Christina (IPB-UPLB) then presented on the project's progress over the past year, and CIMMYT's Zaidi and Raman Babu covered the work done by CIMMYT and partners, as well as the status of progress on various outputs of the project. Christian Boeber (CIMMYT) and V.K. Yadav (DMR) jointly summarized the socioeconomic component and provided field survey results, and CIMMYT's Kai Sonder and Pardhasaradhi Teluguntla discussed spatial analysis with focus on the progress in mapping maize production zones and stress-prone target ecologies in South Asia.
The afternoon session, led by CIMMYT-Hyderabad post-doctoral fellow M.T. Vinayan, focused on work plan creation, assigning tasks to partners, and activities for next year. Opportunities for further research and learning provided by ATMA were also discussed, reflecting upon previous events, including a capacity building workshop on doubled haploid in maize breeding attended by ATMA partners at the University of Hohenheim, Germany, during 12-15 April 2012, and training on precision phenotyping for abiotic stress tolerance in maize during 29 August – 1 September 2012 at CIMMYT-Hyderabad. Furthermore, two interns – one from Bangladesh and one from Vietnam – were trained on the key aspects of breeding for enhancing water-logging and drought tolerance in maize at CIMMYT-Hyderabad from 1 August to 16 September 2012.
On the second day of the meeting, the team visited a nearby village to interact with maize farmers living in a stressprone agro-ecology. Dilip Singh, MPUAT, introduced the participants to farmers of the Fathnagar village where Bhanwar Lal Paliwal, an 84-year-old farmer who still spends four to six hours per day in the field, shared his experience with agriculture and maize. "I have been growing maize since I was a child," he said, "maize is major part of my daily diet which is why I am still strong and fit even at the age of 84." Paliwal then shared a famous local saying – Makki ki roti khayege, Rajasthan chhor ke kahi nahi jayege, meaning "we will eat corn bread and never leave Rajasthan" – and added that although there have been many new maize varieties introduced in the region in recent years, they are less stress tolerant in comparison to the old local varieties. "New high-yielding hybrids with tolerance to drought stress are much needed, as rainfall is declining, or becoming more erratic, every year," he urged the ATMA team to continue their much appreciated work. "I am looking forward to stress resilient maize varieties that will help us harvest good yields even in bad years," added Paliwal.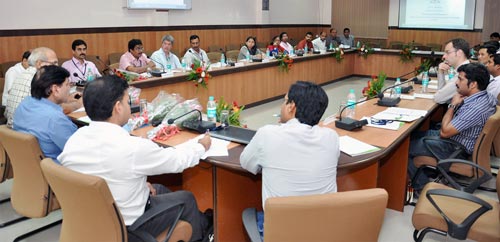 The farmer-scientist interaction produced very useful insights into the issues faced by maize farmers in the region and reiterated the importance of stress tolerant maize varieties for their livelihood. To conclude the day, farmers prepared and shared various maize dishes with the delegation.