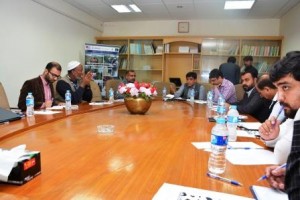 ISLAMABAD (CIMMYT) — Development and agricultural professionals attending a planning meeting in Islamabad in March discussed the importance of follow-up surveys for project evaluation and intervention impact, particularly in relation to the Agricultural Innovation Program for Pakistan (AIP).
The meeting, organized by the International Maize and Wheat Improvement Center (CIMMYT), focused on the progress of AIP, which is funded by the U.S. Agency for International Development (USAID).  Representatives of USAID-Pakistan, CIMMYT and AIP partners including International Livestock Research Institute, International Rice Research Institute, The World Vegetable Center and University of California, Davis discussed conducting follow up surveys on strategy, methodology, sampling techniques and data analysis. Additionally, attendees discussed future plans.
"This is the right time to assess AIP's performance, and we need to focus on the demands of the farmers, their challenges and work out a way forward for them to improve their agricultural productivity," said Imtiaz Muhammad, CIMMYT country representative in Pakistan.
Nazim Ali, AIP activity manager, explained the importance of follow-up surveys and their significance in project evaluation and impact assessment. AIP primary partners shared lessons learned from baseline surveys and presented a work plan for follow-up surveys.
Akhter Ali, CIMMYT agricultural economist, spoke about the methodology used in follow-up surveys, sampling techniques, geographic spread and data analysis techniques.
Participants reached consensus on the following points:
Follow-up survey questionnaires must be aligned with indicators, which AIP is currently reporting to USAID
Follow-up survey questionnaires will be refined internally
Women enumerators should collect sex-disaggregated data sets
For all AIP interventions, samples need to be representative
Agreed time frame for completion of the follow up surveys is tentatively December
For all interventions, AIP partners agreed on documentation of impact through follow up surveys.
These joint efforts will enable smallholder farmers to improve agricultural productivity and livelihoods across different agro-ecological regions of Pakistan.