Did you ever read Seeds of Sustainability: Lessons from the Birthplace of the Green Revolution in Agriculture?
Among its authors is an honorable person who served as a Board Member supporting CIMMYT's Director General Robert D. Havener from 1978 to 1985. Later, in 1995, CIMMYT was proud to have him as Board Chair during Timothy G. Reeves tenure as CIMMYT's Director General (1995-2002). He brought all his experience in issues relating to agricultural economics and policy, particularly in Asia, and his experience as chairman of the IRRI Board of Directors (1988-1994).
The book synthesized the experiences and lessons learned at the Sustainability in the Yaqui Valley Project, a joint venture between Stanford University and CIMMYT. And one of the amazing authors was Dr. Walter Falcon, an agricultural economist known as Wally by his friends and family.
We have just learned the sad news that he has passed away, and we would like to express our sincerest condolences and enormous gratitude to him, as he played a key role in helping us to get to where we are now, ready to solve tomorrow's problems today.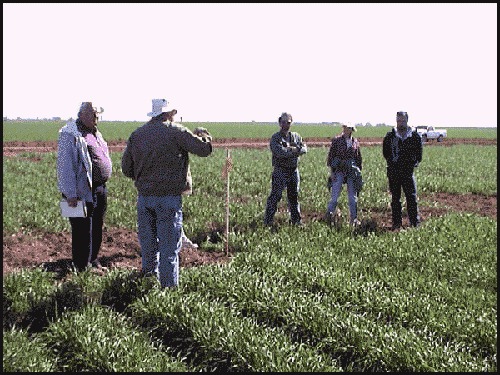 At the end of the 2010s, his opinion was recognized and valued in Latin America. At that time, he saw that technological innovation could help to overcome the growing scarcity of basic inputs such as land, water, and energy. He stressed that everything would depend on the reversal of the trend to reduce funding for research.
In 1989, Dr. Falcon was made an outstanding graduate of 1958 by Iowa State University. In 1992 he was awarded the prestigious Bintang Jasa Utama medal of merit by the Government of Indonesia for 25 years of assistance in the country's development. His recent co-authored papers have analyzed the effects of El Niño on Asian agriculture, Mexican agricultural policy, food price volatility, and biofuels.
Dr. Falcon received a BSc in Agricultural Economics from Iowa State University in 1958, an MA in Economics from Harvard University in 1960, and a PhD in Economics from Harvard University in 1962. His other roles include deputy director of the Center on Food Security and the Environment, director of the Freeman Spogli Institute for International Studies, and Farnsworth professor of International Agricultural Policy and Economics at Stanford University (Emeritus).
Let's celebrate his legacy.
Let's take a moment to remember that we are standing on the shoulders of a giant.