The Southern Africa Accelerated Innovation Delivery Initiative (AID-I) Rapid Delivery Hub is part of the U.S. government's global hunger and poverty initiative, Feed the Future (FtF). The project is a joint diplomatic and development response by the United States Agency for International Development (USAID) and the U.S. Department of State.
AID-I, Southern Africa Rapid Delivery Hub provides critical support to smallholders in Malawi, Tanzania, and Zambia by improving access to the latest agricultural innovations in demand-led and market-based approaches to increase food production amid climate change and the rising cost of food, fuel, and fertilizer.
AID-I invites you to join one of the below monthly sessions. All sessions will be at 4 – 5 p.m. (East Africa Time) through Zoom.
---
September 28, 2023 | Moderator: IFDC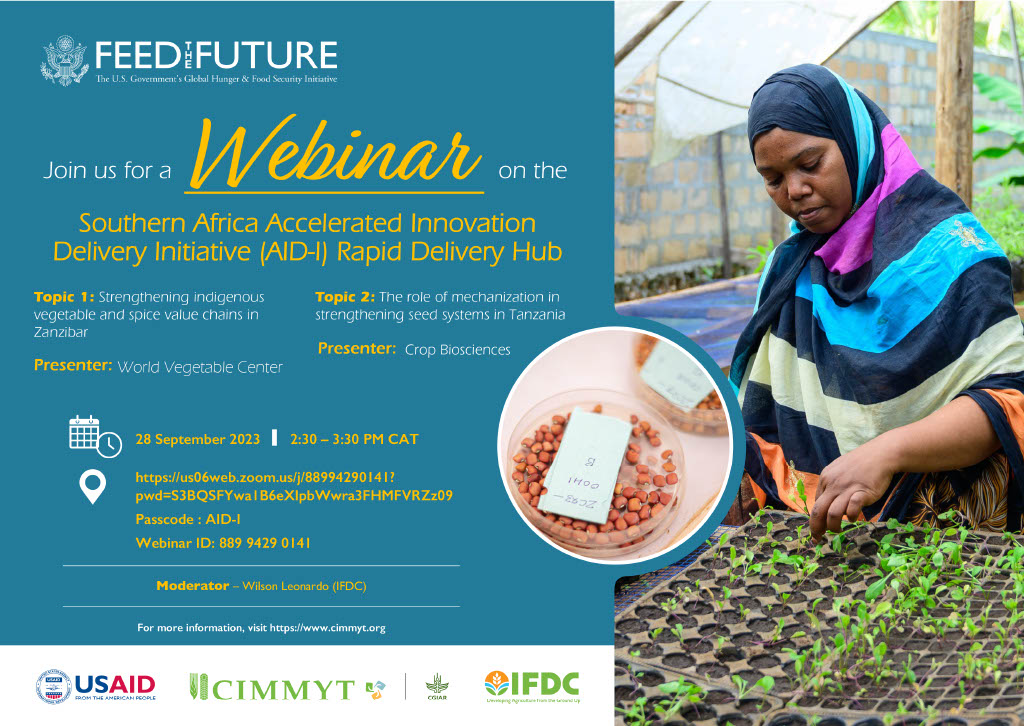 Strengthening indigenous vegetable and spice value chains in Zanzibar
Presenter: World Vegetable Center
The role of mechanization in strengthening seed systems in Tanzania
Presenter: Crop Biosciences
---
October 26, 2023 | Moderator: Mazvita Chiduwa, Cropping Systems agronomist, CIMMYT
Space-to-place innovations for soil health and fertilizer use efficiency 
Presenter: IFDC   
Last-mile technical assistance to spur adoption of sustainable intensification practices for improved soil health and productivity 
Presenter: Total Land Care
---
November 30, 2023 | Moderator: James Gethi, CIMMYT
Bundled innovations to unlock smallholder agricultural productivity and attract youth to agriculture
Presenter: Meridian/FSU
Gender social inclusion and BACKFEED strategies in AID-I delivery with a difference
Presenter: CIMMYT  
---
January 25, 2024 | Moderator: Peter Setimela, Legume Seed Systems specialist, CIMMYT 
Innovations on input credit and agroforestry linked to carbon farming
Presenter: One Acre Fund
Innovations to support irrigation, climate-smart agriculture, and aquaculture among SMEs 
Presenter: International Water Management Institute (IWMI)
---
February 29, 2024 | Moderator: Regis Chikowo, CIMMYT
Leveraging village-based agricultural advisors to strengthen seed systems and link farmers to markets 
Presenter: Catholic Relief Services
Leveraging village-based agricultural advisors to strengthen seed systems and link farmers to markets in Tanzania
Presenter: AGRA
---
March 29, 2024 | Moderator: Akpo Essegbemon, CIMMYT
Innovative ways to increase breeder seed in Tanzania 
Presenter: Tanzania Agricultural Research Institute
Innovative ways to increase breeder seed for fall armyworm tolerant maize and to influence national subsidy policies to adopt improved germplasm in Zambia 
Presenter: Zambia Agricultural Research Institute
---
April 25, 2023 | Moderator: Walter Chivasa, CIMMYT
Scaling improved maize and legume varieties for smallholder farmers
Presenter: Afriseeds
---
May 30, 2024 | Moderator: Edith Banzi, CIMMYT
Emerging lessons from changing cropping patterns in East and Southern Africa: where, how, and why 
Speaker: CIMMYT
---