Tribute to Evangelina Villegas, co-creator of Quality-Protein Maize, 2000 World Food Prize laureate
FOR IMMEDIATE RELEASE
Tribute to Evangelina Villegas, Co-creator of Quality-Protein Maize and 2000 World Food Prize Laureate
El BATAN, MEXICO, 24 APR 2017 — Illustrious former CIMMYT cereal chemist and Mexican researcher Dr. Evangelina Villegas Moreno, who worked alongside CIMMYT distinguished scientist Dr. Surinder K. Vasal to develop quality protein maize (QPM) and shared with Vasal the 2000 World Food Prize, becoming the first woman to receive the prestigious award, died on Monday at age 92. Her family in Mexico City confirmed her death.
Villegas was born in Mexico City in 1924 and earned a Bachelor of Science in chemistry and biology at the National Polytechnic Institute, at a time when higher education for women was still a novelty. In 1950, she began her career as a chemist and researcher at Mexico's National Institute of Nutrition and at the Office of Special Studies Office (OSS), an initiative launched by the Rockefeller Foundation and the Mexican Agriculture Ministry. The OSS would later become the International Maize and Wheat Improvement Center (CIMMYT).
Villegas joined CIMMYT in 1967 after earning a Master of Science degree in cereal technology from Kansas State University and a Ph.D. in cereal chemistry and breeding from North Dakota State University.
As a cereal chemist at CIMMYT, she helped ensure that high-yielding wheat varieties developed by Nobel Peace Prize laureate and wheat scientist Dr. Norman Borlaug also had good end-use quality for making chapatis, bread, and other products. In the early 1970s she formed a fruitful partnership with maize breeder Vasal that culminated more than a decade later in the development of QPM, whose kernels feature higher levels of two key amino acids.
"CIMMYT is proud to have counted among its ranks a professional like Dr. Villegas, a pioneering Mexican woman scientist in a challenging period before people started talking about gender," said Martin Kropff, CIMMYT Director General.
"She also witnessed and took part in CIMMYT's early years and the development of an institutional culture that values scientific excellence to improve food security and livelihoods," Kropff added. "With the respect and great affection in which we have held her, we will strive to honor those values and we send our deepest sympathies to her family."
QPM has been shown to improve the nutrition of young children whose diets depend on maize. A 2002 study in Ethiopia found that children fed a QPM diet had a 15 percent increase in the rate of weight growth over those who consumed conventional maize.
Dr. Villegas also served as a maize and wheat quality consultant for national research programs throughout Latin America, Africa, and Asia, mentoring and training young scientists across the developing world.
She retired from CIMMYT in 1989 and accepted an appointment as a consultant on QPM for Sasakawa Global 2000, an international organization that works to improve farm technology in Africa.
In addition to improving lives and livelihoods around the world, Dr. Villegas changed the lives of youths hired by CIMMYT to protect experimental crops from birds, helping to create a scholarship fund that allowed many to complete their education.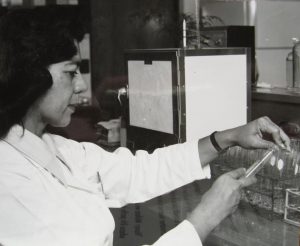 In 2013 Kansas State University (KSU) honored Dr. Villegas with an Outstanding Alumni Award and established the "Dr. Evangelina Villegas Travel Award" to support travel each year for an outstanding scientist or postdoctoral fellow to present their research at an international scientific conference.
Villegas has also received many honors from Mexico and Mexican Institutions. The National Institute for Agricultural Research honored her in 1966. The National Polytechnic Institute named Dr. Villegas a Distinguished Former Student in 1972, and she was honored by the National Polytechnic Institute's School of Biological Sciences in 1978. Former Mexican President Ernesto Zedillo presented Dr. Villegas with the 2000 Woman of the Year award of the Mexican Women's Association. In 2001 Dr. Villegas was named to Alpha Delta Kappa's prestigious list of International Women of Distinction and received the prestigious Lazaro Cardenas Medal from the National Polytechnic Institute. She also received an honorary doctorate from the Chapingo Autonomous Agricultural University in 2002. Finally, Dr. Villegas was a member of the distinguished Mexican Polytechnic Group, a civil association to promote and support science and technology in Mexico.
DR. VILLEGAS AT CIMMYT
Video: Eva Villegas describes work on Quality Protein Maize
PDF: Chemical methods used at CIMMYT for determining protein quality in cereal grains
PDF: The Quality Protein Maize Revolution
PDF: Quality Protein Maize, a century-long journey towards the nutritional wellbeing of the poor and vulnerable
Share your memories of Dr. Villegas, email Genevieve Renard, head of CIMMYT communications: g.renard@cgiar.org
CIMMYT – the International Maize and Wheat Improvement Center (www.cimmyt.org)– is a global leader in publicly-funded maize and wheat research and related farming systems. Headquartered near Mexico City, CIMMYT works with hundreds of partners worldwide to sustainably increase the productivity of maize and wheat cropping systems, thus improving global food security and reducing poverty. CIMMYT is a member of the CGIAR System and leads the CGIAR Research Programs on MAIZE and WHEAT. The Center receives support from national governments, foundations, development banks and other public and private agencies.
For more information, contact:
Geneviève Renard
Head, Corporate Communications, CIMMYT
Email: g.renard@cgiar.org
Phone: +52 (595) 95 21900 ext 2019
Skype: genevieve.renard1
What's new
June 15, 2018
June 14, 2018
June 13, 2018
June 12, 2018
June 12, 2018
MORE