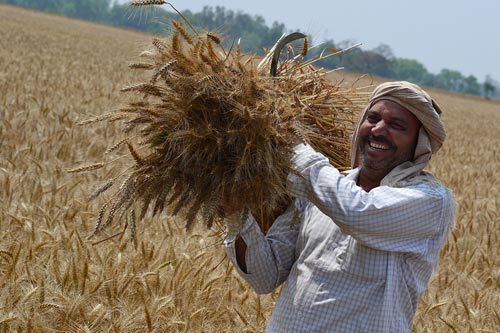 NEW DELHI, India (CIMMYT) — In a study published last month in Food Security, researchers from the International Maize and Wheat Improvement Center (CIMMYT) reported that wheat farmers' total annual income increased by 6% on average with the introduction of no-till farming method in the eastern Indian state of Bihar.
While studies done in the past have shown the impacts of no-till farming in field trials or controlled environments across South Asia, this research is believed to be the first that studied actual impacts in farmers' fields in eastern India.
"We found that the prevailing no-till practice, without full residue retention, used by farmers in Bihar has led to an average yield gain of 498 kilogram per hectare (19%) over wheat sown by conventional tillage method," said Alwin Keil, Senior Agricultural Economist, CIMMYT and the lead author of this study.
The no-till practice allows farmers to plant wheat directly into residues of the previous crop without ploughing, thus helping save irrigation water, increase soil organic matter and suppress weeds.
According to the study, large-scale adoption of no-till wheat production could play a major role in making eastern India self-sufficient in wheat.
"It's important to enhance the productivity of the rice-wheat cropping systems in the Indo-Gangetic Plains for ensuring food security for more than 20% of the global population," highlighted Keil.
Prone to floods and drought, Bihar has the lowest wheat yields in the Indo-Gangetic Plains with an average of 2.14 tons per hectare. "To feed a growing wheat-consuming population, Bihar currently imports wheat largely from the northwestern state of Punjab, where yields have stagnated over the last five years due to an over-exploitation of resources, especially water," said Keil.
***
Notes to Editors:
Full Paper can be downloaded at the link below:
http://link.springer.com/article/10.1007/s12571-015-0492-3
About CIMMYT
Headquartered in Mexico, International Maize and Wheat Improvement Center (CIMMYT) is the global leader in publicly-funded research for development for wheat and maize and for wheat- and maize-based farming systems. CIMMYT works throughout the developing world with hundreds of partners, belongs to the 15-member CGIAR Consortium, and leads the CGIAR Research Programs on Wheat and Maize. CIMMYT receives support from national governments, foundations, development banks and other public and private agencies.www.cimmyt.org
About CSISA
Led by CIMMYT, the Cereal Systems Initiative for South Asia (CSISA) aims to sustainably improve cereal productivity, food security and increase farmers' income in South Asia's Indo-Gangetic Plains, home to the region's most important grain baskets. www.csisa.org
For more information, contact:
Anuradha Dhar
Communications Specialist
International Maize and Wheat Improvement Center (CIMMYT)
a.dhar@cgiar.org